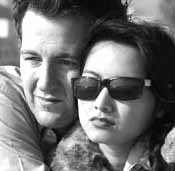 Beyond being a low-budget and beautifully realized black-and-white portrait of love, sex, and contemporary 20-something romance in Los Angeles, In Search of a Midnight Kiss is above all else the equivalent of an actors showcase on film. This modest production has played the festival circuit for the last couple of years in low-key fashion and now gets a limited release, during which it should find an appreciative audience among those looking for a quirky and telling tale of singles struggling to find themselves and each other in a city that doesn't make any of that easy. Writer-director Alex Holdridge drew on his own experiences as a young filmmaker new to L.A. looking for personal and professional success. Casting a group of friends and promising young talent, Holdridge has made an original and funny movie his own way, and we're all the better for it.
Wilson (Scoot McNairy) is a 29-year-old writer, depressed and pessimistic about ever selling his script or finding the right girl. When he's not compromising himself with videos of his roommate Jacob's (Brian Matthew McGuire) girlfriend, Min (Katy Luong), or having to put up with a mother (Twink Caplan) who wants a boob job, he's hopelessly posting personal ads on Craigslist. A resulting date with the gorgeous, unpredictable, sassy blonde Vivian (Sara Simmonds) turns into a wild ride through L.A. on New Year's Eve. Complications arise when Vivian's out-of-control boyfriend (Robert Murphy) calls and threatens the pair with extreme violence, but nothing can seemingly stop the forward thrust of a promising — and dangerous — new relationship that might shake Wilson out of his funk.
Superior writing and a black-and-white view of L.A. rarely seen in movies support wonderful performances — particularly from McNairy, evoking the desperation of a young talent who just can't get arrested in the big city. His negative attitude and tortured-soul act are unexpectedly endearing. When he starts to come alive with the promise of new romance, we see him begin to change back into the person we can only imagine he once was before he was exposed to the cold-hearted ways of show business. Simmonds plays Vivian as a fast-talking, wise-beyond-her-years operator who is gamely hiding her personal trauma behind those cool sunglasses she wears. At first she's all show, but as her predicament unfolds we see a real human being at the crossroads of life: She's the classic and complicated dame innocent guys like Wilson have been falling for since movies began talking. No less impressive in more limited screen time are McGuire and Luong as the perfect couple — or so Wilson thinks. Murphy, who also contributed the first-rate cinematography, is hilarious as the scary ex who will not be dumped under any circumstances.
Movies with performances this honest, bittersweet, and heartfelt are so rare we should relish the chance to see them wherever we can find them. If you're in search of a memorable film experience about finding the best in ourselves no matter how long the odds, here is your chance.
Genre: Comedy
Written and directed by: Alex Holdridge
Starring: Scoot McNairy, Sara Simmonds, Katy Luong, Brian Matthew McGuire