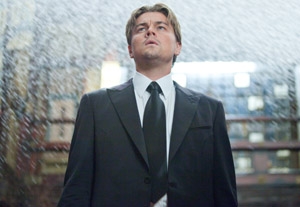 Director Christopher Nolan has proven in "Batman Begins" and "The Dark Knight" that he is fully capable of marrying big summer action vehicles with great acting showcases. He's done it again with his fever dream of a flick, "Inception," which at its heart is an entertaining heist movie in the tradition of "Ocean's Eleven" but is also the most complex, complicated, and beautifully acted special-effects extravaganza in years. Nolan cleverly keeps the audience on edge for two and a half hours by blurring the line between dreams and reality to the point where we have no idea what is real and what's in the mind—and he uses a great international cast to suck us in.
Chief among them is Leonardo DiCaprio as Dom Cobb, a thief specializing in the art of extraction—a process where valuable secrets can be stolen from a person's subconscious while they are dreaming. Although his talents have put him in demand in the world of corporate espionage, they have also made him persona non grata in his home country of the United States, where he is a wanted criminal and unable to see his family. But all that could change when he accepts the challenge of lethal businessman Saito (Ken Watanabe), who wants him to invade the dreams of a rival. The twist is, instead of stealing an idea, Saito wants him to plant one. To this end, Cobb goes about putting together the team of experts he needs to pull off the impossible for a chance to get back home.
Other than Nolan's incredibly inventive story concept and execution, "Inception" shines in its casting and performances, which manage to overcome the ambitious scope of the production to bring the intimate human element home to the audience in a big way. This is a rare find: an art-house epic. DiCaprio's Cobb works as well as he does because the actor gets to the emotional core of this man. Cobb's overwhelming desire to see his kids again and resolve the tortured memories involving his wife, Mal (Marion Cotillard), makes us empathize with his plight. Cotillard, playing a mystery woman seen apparently only in dreams, is alternately touching and frightening. She's vulnerable, fragile, and evil all at once. Watanabe is also terrific as a sharp businessman who becomes a tourist in the mind trip he made possible. As his rival—and the target of all this subconscious skullduggery—Cillian Murphy beautifully portrays a man torn by his fractured relationship with his father (Pete Postlethwaite in a brief performance). Among the "Inception" team, Joseph Gordon-Levitt is a standout, particularly in a gravity-defying fight sequence, as Cobb's right-hand man, while Ellen Page nails her role as the architectural student getting an education she never dreamed of. Tom Hardy ("Bronson") is wickedly amusing as the "forger," and Dileep Rao is spot-on as the chemist who creates the drug compound enabling numerous people to share dream states. Also of note in smaller roles are vets Michael Caine and Tom Berenger.
Like Bogart so memorably once said, this is the "stuff of dreams," and somehow Nolan has managed to get it all on screen. Succumb to it and ask questions later.

Genre: Drama. Written and directed by: Christopher Nolan. Starring: Leonardo DiCaprio, Marion Cotillard, Ken Watanabe, Joseph Gordon-Levitt, Ellen Page, Tom Hardy, Dileep Rao, Tom Berenger, Cillian Murphy, Michael Caine.