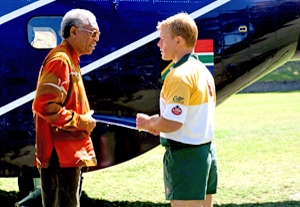 If ever there was an actor who seems born to play a part, it's Morgan Freeman as Nelson Mandela. Freeman had the rights to do a film version of Mandela's autobiography for years, but the scope proved too much for one film—and probably too expensive. When "Invictus"—adapted by Anthony Peckham from John Carlin's book "Playing the Enemy: Nelson Mandela and the Game that Made a Nation"—came along, focusing on just one small aspect of Mandela's life in post-apartheid South Africa, the timing seemed perfect. And indeed the resulting film, under Clint Eastwood's solid direction, is a fascinating true story that lifts our spirits and gives us hope. Freeman is quite remarkable in a performance of tremendous dignity that shows what true leadership really is.
As a newly elected president, Mandela was wise enough to know that the best way to bring the very divided elements of his country together was through sport. He used the 1995 Rugby World Cup as his means and enlisted Francois Pienaar (Matt Damon), the captain of the Springboks—the all-white-and-one-black national team—to accomplish that goal. Mandela hoped to unite his factionalized country; Pienaar wanted to win a World Cup. Their independent dreams morphed into the slogan "One team, one country."
Of course, in sports and politics nothing is ever easy. There was strong resistance by South Africa's blacks to the idea of rallying around a team whose green colors represented the worst of apartheid, and they actively tried to convince Mandela to dump the team, not celebrate it. But as Freeman plays him, Mandela is a man who after 27 years in prison marches to the beat of his own drummer. He sees things from a perspective most others don't, and his vision is uncanny in its insight and courage.
Eastwood is a no-nonsense director who gets right to the core issues of the conflict. After two previous dark collaborations with Freeman ("Unforgiven," "Millon Dollar Baby") this is a much lighter, more hopeful story. Although it didn't take too much in the way of makeup sessions to turn Freeman into Mandela, the actor clearly worked diligently on finding the distinctive accent and rhythm of the great leader's speech. It's a pitch-perfect job, one without a lot of emotional highs and obvious moments but beautifully nuanced. You can't catch Freeman acting here.
Damon transforms himself believably into a world-class athlete, and his South African accent is solid. Although this is essentially a supporting role, Damon is simply extraordinary and gives one of the best performances of his career. Much of the rest of the cast has been effectively chosen out of South Africa. One standout is McNeil Hendricks, who plays Chester Williams, the only black member of the Springboks. But all the performers are authentic, down to the smallest part.
Don't worry if you aren't up on rugby; the game is secondary to the film's meaning. The rewards of the event and now the movie inspired by it go far beyond the field and into our hearts.
Genre: Drama
Written by: Anthony Peckham
Directed by: Clint Eastwood
Starring: Morgan Freeman, Matt Damon, McNeil Hendricks, Patrick Mofokeng, Matt Stern