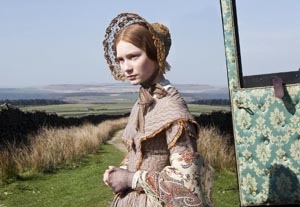 Filmmakers have often brought to the screen this 19th-century gothic novel by Charlotte Brontë. Rarely have they done so to such gorgeous, sumptuous, evocative effect. Fortunately the quality of acting matches the visuals, so romantic filmgoers will quickly fall into step with the silken storytelling and stay there—until the film's unfortunately abrupt ending.
From Jane's youth as an abused child at her wealthy aunt's (Sally Hawkins) through her schooldays at the dreary Mr. Brocklehurst's (Simon McBurney), the hard life faced by young Jane (Amelia Clarkson) only strengthens her will and independent spirit. Grown and seeking employment as a governess, Jane (Mia Wasikowska) arrives at the looming, gloomy Thornfield Hall, where she is greeted by the kindly housekeeper (Judi Dench). Together, Jane and Mrs. Fairfax attend to their daily lives in the dusky splendor magnificently created by production designer Will Hughes-Jones.
But a gothic romance cannot exist without a brooding master. At long last Mr. Rochester arrives home, and he and Jane form an instant and unbreakable connection that blossoms in wild gardens under moody clouds. The ever-adorable Dench, Wasikowska as Jane, and Michael Fassbender as Mr. Rochester turn Brontë's period dialogue into breezy conversation and give their characters a lithe ability to communicate.
Although speaking in Northern England's accents, the actors are modern in intensity and energy. Wasikowska completely gives herself to Jane's plain looks that catch fire through Jane's intense personality. Fassbender, though lacking his character's dark eyes and heavy brow, captures the essences of a man weary of gold-digging women. Because the two characters eschew endless hours of polite conversation that circles their attraction, the actors can reveal so much so quickly in word and glance.
Cary Joji Fukunaga's tasteful, timeless direction enhances the ebbs and flows of the story, adapted with apparent worshipfulness by Moira Buffini. Framing and lighting focus on mood and subtext, establishing Jane's years of hardship and moments of bliss.
Costumer Michael O'Connor puts Jane's dastardly Aunt Reed in exorbitant yardage of soft satin, while little Jane wears a scratchy little dress she has nearly outgrown. The spot-on locales, evocative music, and character-defining hair and makeup make for a thrilling watch.
To these eyes, at least, the cuts—whether in the script or in the editing—keep this film from perfection. Jumps seem to leave out crucial bits of exposition, as well as Brontë's complete ending, so those not familiar with the novel might find the narrative threads tangled. Otherwise, this film is a must-see for Jane aficionados and the gothic at heart.
Genre: Gothic romance
Writer: Moira Buffini, based on the novel by Charlotte Brontë
Director: Cary Joji Fukunaga
Starring: Mia Wasikowska, Michael Fassbender, Judi Dench, Sally Hawkins, Simon McBurney, Amelia Clarkson.