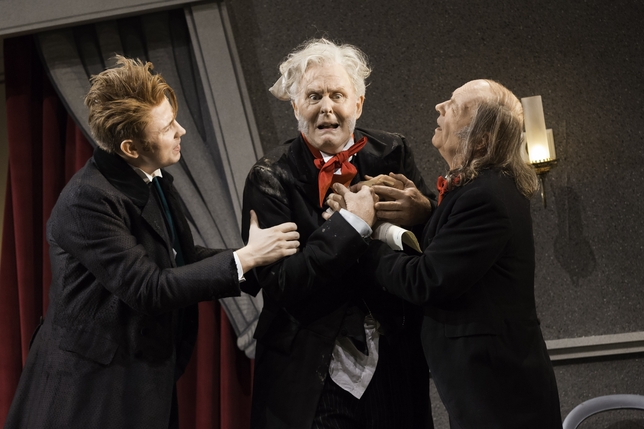 The National Theatre of Great Britain's series of live broadcasts to cinemas worldwide switches from Shakespearean tragedy ("Timon of Athens") and contemporary family drama ("The Last of the Haussmans") to rollicking Victorian farce with its latest offering, a slapstick staging of Arthur Wing Pinero's rarely performed 1884 comedy "The Magistrate." While this show is not as riotously funny as "One Man, Two Guvnors," NT Live's last venture in low comedy, which transferred to a Tony Award–winning Broadway run, it's still a jolly good time and features an engaging star turn from American John Lithgow.
The Emmy- and Tony-winning actor plays Aeneus Posket, a stuffy but goodhearted officer of the court married to the much younger widow Agatha (a ravishingly witty Nancy Carroll). But Posket's bride is not quite as youthful as he believes. In order to make herself more attractive to her suitor, Agatha shaved five years from her age. But she has also removed the half-decade from her 19-year-old son Cis (an impish Joshua McGuire), rendering the randy rascal an adolescent with an inexplicably sophisticated appreciation of cards, liquor, and the opposite sex. Comic machinations ensue as the devilish Cis leads his stepfather through a night of debauchery and Agatha goes to extreme lengths to conceal her secret. Of course, if you examine the ridiculous plot too closely, it falls apart. Cis has no knowledge of his true age, which makes no sense, plus several of the gags and bits of business are decidedly dated, requiring at least a passing knowledge of Victorian mores.
Nevertheless, director Timothy Sheader stages the proceeding with a wicked sense of fun, so the antique references whiz by without slowing the action. He employs a chorus of dandies in exaggerated costumes by Katrina Lindsay singing newly written songs by Richard Sisson and Richard Stilgoe to accompany the elaborate transitions between the four acts. These are a treat to watch as the off-center, cartoonish sets (also designed by Lindsay) turn like the pages of a demented pop-up book.
The acting is done in an exaggerated, highly theatrical manner, which comes across as a bit over the top before the cameras, but one gradually gets used to the flamboyance. As he did in the long-running sitcom "Third Rock From the Sun," Lithgow expertly combines natural intentions with comic flair. His Posket is a believable upholder of the law drawn into a preposterous situation. This is most brilliantly displayed in a tour de force set piece in which he re-enacts a wild chase after escaping from a hotel of questionable repute. Carroll, McGuire, Jonathan Coy, Nicholas Blane, and the rest of the large cast prove themselves felicitous farceurs in this blissfully silly romp.
Presented by National Theatre Live. For a complete list of U.S. dates, times, and locations, visit www.ntlive.com.
Critic's Score: A