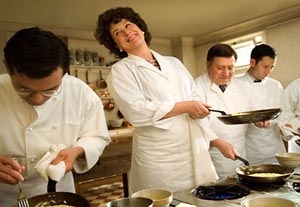 All hail Meryl Streep, whose unprecedented winning streak at the box office will undoubtedly continue with this fetching comedy and give hope for 60-year-old thesps everywhere who dare to challenge the young turks of summer. Sensationally entertaining in every respect, Streep's latest proves to be a deliciously warm and funny film about life, love, and food—perhaps the year's tastiest movie treat. Moviegoers starving for a sophisticated comedy stuffed with style and wit should start lining up now.
The premise is quite simple, based on a book and blogs by Julie Powell, and the film's writer-director Nora Ephron makes it look incredibly easy, but Ephron pulls off an impressive feat, balancing two different women, in two different eras, joined at the proverbial hip by a love of French cooking. Amy Adams winningly plays Julie, a young writer looking for meaning in life. Julie comes up with the idea of spending a year cooking all of the 524 recipes in kitchen whiz Julia Child's (Streep) indispensible "Mastering the Art of French Cooking" and writing a daily blog about her progress. Ephron hit upon the brilliant idea of providing counterpoint by incorporating Child's autobiography, "My Life in France," and chronicling the master chef's rise in her profession half a century earlier. As the film unfolds we discover it's not just about cooking and chronicling food recipes but about two contrasting women in different eras who discover a passion missing in their professional lives and in their marriages—all of which grow stronger and more complicated as the film progresses.
Streep will probably land another Oscar nomination for her dead-on portrayal of the 6-foot-2 Child. The actor is riotously funny—a total delight and pure perfection in a role that goes beyond impersonation of a famous TV personality to become a convincing portrait of a woman who was way ahead of her time. Streep stands tall in the part, squeaky sing-song voice and all. Adams is terrific as well. Unlike in their previous collaboration, "Doubt," the two leads never share a moment of screen time; yet the connection between them is ever present. Ephron pulls together the two stories into a friendly, cohesive package. Plaudits to both husbands: Stanley Tucci as Child's adoring spouse and Chris Messina, whose Eric Powell is alternately supportive of and frustrated by his wife's new obsession. Kudos also to the always reliable Jane Lynch as Child's sister and to a superb Linda Emond as the great chef's book collaborator Simone Beck.
Great acting, big laughs, and mouth-watering cinematic food. What more could you possibly ask for?
Genre: Comedy. Directed and written by: Nora Ephron. Starring: Meryl Streep, Amy Adams, Stanley Tucci, Chris Messina, Linda Emond, Mary Lynn Rajskub, Jane Lynch.