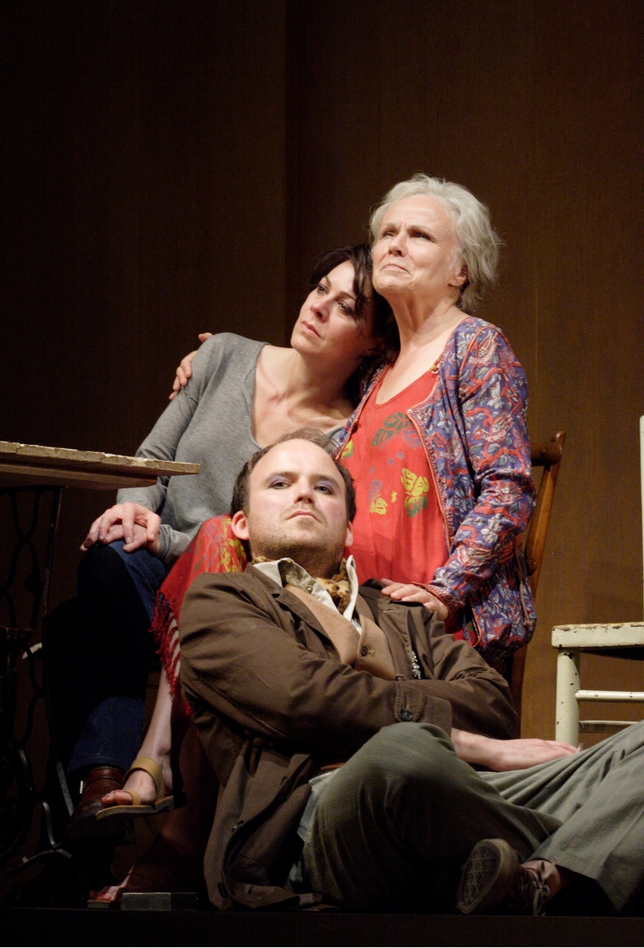 First-time playwright Stephen Beresford mines familiar themes in his piercing drama "The Last of the Haussmans," presented by London's National Theatre and broadcast to cinemas worldwide, but this former actor handles them with such depth that they seem fresh. A dysfunctional family, conflict over a beloved house, and rivalry in love have been employed millions of times before. Beresford works detailed new variations on these tropes so that his script is much more than an updated "Cherry Orchard" or "Seagull." These are real people dealing with problems that are in one sense unique to them and in another are shared by all families. There are flaws—the play is a good 20 minutes too long and some of the characters' recent pasts could use some filling in—but the balance sheet definitely shows a dramatic profit.
The setting is the rundown domicile of the titular clan on Britain's Devon coast. Matriarch Judy is an elderly former political activist who spends her days drinking and reliving her 1960s glory days, when she protested against the establishment and blissed out at an Indian ashram. The action begins with her adult children rootless. Bitter Libby and drug-addicted, flamboyantly gay Nick have returned to care for Judy after she has been diagnosed with cancer and the local council has ordered that her chronically cluttered house be cleaned. There's plenty of emotional debris as well, with Libby carrying on an affair with Judy's doctor Peter; Nick developing a crush on Daniel, a hunky teenager who uses the Haussmann pool for swimming practice; and Summer, Libby's moody daughter, also attracted to Daniel and full of rage at her mother.
Emotions reach the boiling point when Judy refuses to apologize for abandoning her offspring to be raised by her parents while she went off to India and the ownership of the house comes into question. The play could easily have descended into a long shouting match, as there are so many high-decibel confrontation scenes, but director Howard Davies and a masterful cast keep the feelings beneath the screaming so honest that it seems as if we're watching a slightly heightened version of a real-life family at a crucial moment.
Rory Kinnear embraces Nick's flightiness without going over the top. This witty yet pathetic character could have been played as a stereotype—the tragic swishy queen—but the actor and playwright recognize that Nick's homosexuality isn't the cause of his unhappiness; it's his massive insecurity. Julie Walters comes on a bit strong as Judy, but that's the part. She's loud, domineering, and self-centered, and the actor conveys those qualities, as well as a kernel of maternal affection beneath the bluster. A luminous Helen McCrory provides the emotional center of the play as Libby, whose demanding roles as mother, daughter, and lover threaten to pull her apart. Isabella Laughland makes Summer a complex kid, Taron Egerton imparts the laconic Daniel's churning yearnings with soulful expression, and Matthew Marsh is a perfectly vacillating and spineless Peter.
"The Last of the Haussmans" is another triumph for the NT Live broadcasts.
Presented by National Theatre Live. For a complete list of U.S. dates, times, and locations, visit www.ntlive.com.
Critics' Grade: A-