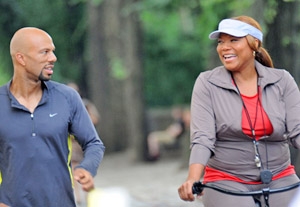 To put it simply, "Just Wright" is your basic Cinderella story set against a pro basketball backdrop.
The essential problem with this bland Queen Latifah romantic comedy is that it's content to keep it simple. There's nothing in the strictly by-the-numbers plotting, ho-hum pacing or stock characterizations that would allow it to ever truly come to life.
That it squanders a terrific cast in the process -- one that also includes Common, Phylicia Rashad and Pam Grier -- makes it all the more disappointing.
Being released, curiously, one weekend after a logical Mother's Day target date, it will have to count on drawing the Tyler Perry crowd, but it unlikely will generate Perry numbers.
Developed expressly for Latifah and her Flavor Unit Entertainment by screenwriter Michael Elliot ("Brown Sugar," "Like Mike"), "Just Wright" refers to Leslie Wright (Latifah), a physical therapist and die-hard hoops fan who just can't seem to find her Mr. Right.
We know this because (a) she says so herself; (b) her judgmental mom (Grier) keeps mentioning the fact; (c) so does her shameless gold-digger of a god sister, Morgan (Paula Patton); and (d) we see it for ourselves as another promising date ends with Leslie again being viewed as "best friend" material.
Things look like they might be on the rebound when a chance meeting with NBA All-Star Scott McKnight (Common) scores Leslie an invite to his birthday party, only to see Morgan make the moves on someone else for the trophy-wife kill.
But when a career-threatening knee injury brings Leslie back into the picture as Scott's in-house therapist, her shot at a happily-ever-after ending suddenly doesn't seem so remote.
Even an oft-told tale still can feel fresh and engaging, but though director Sanaa Hamri certainly would have seemed to be the right person for the job, given the understated spark she lent 2006's "Something New," her pedestrian approach here cries out for a hint of verve.
It's certainly not to be found in Elliot's rote script in which every character has been etched in highlighter, leaving it to the actors to do all the detailing.
In the absence of something more inspiring, few play their A-game.
Although Queen Latifah's spirited charisma usually can be counted upon to boost a mediocre movie, her NBA-loving protagonist with a heart of gold is drearily subdued.
Only recording artist/actor Common, a decidedly uncommon choice for the handsome-prince role, manages to bring something unexpected to the rom-com table, with a committed if overly introspective turn that doesn't exactly jibe with the other, broader supporting performances.
At least Hamri, who got her start directing music videos, knows from production value and, with the assistance of cinematographer Terry Stacey ("Dear John"), she ensures everything about this intended fairy tale is cast in a feel-good gossamer glow. That's no mean feat when you're shooting on a basketball court.
Opens: Friday, May 14 (Fox Searchlight)
Production: Flavor Unit/Debra Martin Chase
Cast: Queen Latifah, Common, Paula Patton, James Pickens, Jr., Phylicia Rashad, Pam Grier
Director: Sanaa Hamri
Screenwriter: Michael Elliot
Producers: Debra Martin Chase, Queen Latifah, Shakim Compere
Director of photography: Terry Stacey
Production designer: Nicholas Lundy
Music: Wendy Melvoin, Lisa Coleman
Costume designer: David Robinson
Editor: Melissa Kent
Rated PG, 111 minutes-Nielsen Business Media