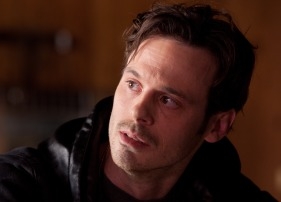 New Zealand-born Australian filmmaker Andrew Dominik's last movie, 2007's "The Assassination of Jesse James by the Coward Robert Ford," was an elegiac deconstruction of the Western that focused more on character and atmosphere than gunfights. His latest, "Killing Them Softly," takes the same approach to the gangster film. There's violence aplenty, but once again Dominik is fascinated by something far more ephemeral: how a community learns to operate within its own code of behavior.
Set in the months leading up to the 2008 presidential election, this crime thriller reveals its dark comic streak early when we meet Frankie (Scoot McNairy) and Russell (Ben Mendelsohn), two meager, moronic hoods who stick up a mob-sanctioned card game. Goateed enforcer Jackie (Brad Pitt) is called in to investigate and mete out retribution, a task he much prefers to his occasional meetings with a mob middle-man (Richard Jenkins) that are an odyssey in endless, sometimes quite funny bureaucracy.
Based on George V. Higgins's novel "Cogan's Trade," "Killing Them Softly" might appear to be just one more heist-gone-wrong film. But Dominik soon demonstrates that he cares little about Frankie and Russell's crime, despite the fact that he stages it with incredible skill and slowly building tension. Instead, he wants to paint a portrait of a criminal ecosystem, engaging us with smart, insider-y talk that allows the characters to come alive in a way they normally don't in a caper flick. At first, the emphasis on seemingly extraneous chitchat might seem tedious or Tarantino-esque, but a superb cast gives the words authority and personality, no more so than when an out-of-town hit man (James Gandolfini) arrives to assist Jackie—only to lay out in an extended dialogue scene the romantic complications that, we'll come to realize, have made him a shell of the killer he used to be.
As with "The Assassination of Jesse James," "Killing Them Softly" indulges in a hyper-stylish approach that both demythologizes and romanticizes its milieu. Unfortunately, Dominik can sometimes be too slick for his own good, over-killing us with visual panache. But there are real ideas underneath the surface—specifically about the corruption of the American Dream—that lend the story a grim urgency and relevance. In his second pairing with Dominik, Pitt again plays a charismatic, frightening monster, and his performance is a marvel of understated menace. His costars are equally tough and funny, clearly tuned in to the film's cynical wavelength. And when the talk ends and reckoning finally comes, "Killing Them Softly" continues to defy genre expectations, socking you in the jaw but then resolving itself in a way that's both unexpected and weirdly appropriate for such a distinctive, bracing movie.
Critic's Score: B+
Directed by Andrew Dominik
Casting by Francine Maisler
Starring Brad Pitt, Scoot McNairy, James Gandolfini