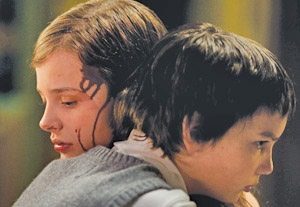 Foreign films have had a lot of success at the movies the last couple of years; two of the most notable instances include the well thought-out screen adaptations of the wildly popular Swedish novel "The Girl With the Dragon Tattoo" and Norway's "Let the Right One In." American filmmakers have not surprisingly jumped at the chance to remake both of these within just a few years of the originals' releases. As for the former, fans of the original will have to wait, as production has only just begun; but the latter is about to be released with a revised title, "Let Me In," by director and co-screenwriter Matt Reeves, best known for helming the sci-fi thriller "Cloverfield."
Reeves has stayed true in many ways to the predecessor, while still making the film his own. Fans of the original will find new ground to sink their teeth into. Some might even like this one more. For one, "Let Me In" has assembled a top-notch cast, most notably Richard Jenkins as the creepiest character to come around in a while. The cinematography and original score are also standouts. Interestingly, Reeves set his film in the Reagan era.
Haven't seen the original? That's okay, too. The new version will likely be that much more shocking, and touching, to newcomers. The story centers on 12-year-old Owen (his and other characters names have been changed in the remake), who doesn't fit in, not even at home and especially at school, where the class bully preys on him. As played by the talented Kodi Smit-McPhee ("The Road"), Owen is like an alien hopelessly trying to navigate a foreign world.
Everything changes one cold, snowy night when Owen meets his new, mysterious, and barefoot neighbor, Abby, also 12 but with a major caveat: She's a decades-old vampire—and not the kind who drinks True Blood to get her sustenance. Much of her dirty work is performed by Jenkins, who looks after Abby and also harbors a secret. Chloe Grace Moretz, who stole the film "Kick-Ass" earlier this year, brings intensity and strength to Abby, playing her as tough yet emotionally. Together, Moretz and Smit-McPhee play off of each other in wonderful ways that transcend their lack of years on this planet. Jenkins is, as always, fantastic and elevates the picture.
While a horror film, and a bloody scary one at that, "Let Me In" is, at its heart, a classic love story about a boy and a girl who must overcome immense obstacles to remain together. Unfortunately, Reeves added special effects that take away from, rather than add to, the film. Other than that, he made excellent choices.
Genre: Horror/Romance. Written by: Matt Reeves, based on the novel by John Ajvide Lindqvist. Directed by: Matt Reeves. Starring: Kodi Smit-McPhee, Chloe Grace Moretz, and Richard Jenkins.