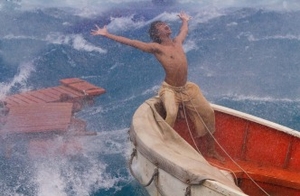 Director Ang Lee has never made the same film twice, moving from the suburban satire of "The Ice Storm" to the poetic martial-arts epic "Crouching Tiger, Hidden Dragon" to the tragic gay romance at the heart of "Brokeback Mountain." Switching gears yet again, he has turned his attention to "Life of Pi," a fantasy-adventure that's also a gripping tale of survival. It has little in common with his earlier films, save for its attention to character detail and its generally thoughtful manner.
Based on Yann Martel's acclaimed 2001 novel, this 3D film introduces us to Piscine Molitor Patel (Irrfan Khan), a kindly man telling a budding novelist (Rafe Spall) about a remarkable event that happened to him as a teenager. In flashbacks, we see the young man (Suraj Sharma), who goes by Pi, as he's about to move from India to Canada with his parents, who operate a zoo. Unfortunately, tragedy strikes when their boat capsizes, killing Pi's family and most of their animals—with the notable exception of a dangerous Bengal tiger nicknamed Richard Parker. Stranded on a lifeboat in the middle of the ocean, Pi must learn to coexist with this carnivorous killer while simultaneously holding out hope that he'll be rescued.
Drawing comparisons to "Cast Away" (not to mention the Book of Job), "Life of Pi" examines the limits of human endurance, and Sharma (in his first film role) dynamically illustrates Pi's ingenuity as well as his crumbling resolve in the face of long odds that he'll survive this ordeal. His performance impresses all the more considering that his animal co-star is mostly the product of stellar CG work, creating a wholly believable, ever-present menace that becomes heavily symbolic, alternately representing Pi's anxious transition into adulthood and the cold terror of death itself.
Though the film's ads may suggest a magical children's movie, be advised that "Life of Pi" can occasionally be a brutal experience, unflinchingly (and rather brilliantly) dramatizing Pi's narrow escape from his family's doomed vessel. (In terms of disaster sequences, it ranks with the ending of "Titanic" and the opening of "Flight.") This, coupled with Pi's harrowing first encounter with Richard Parker on the lifeboat, might terrify younger viewers, but give Lee credit for having the courage to make a fantasy film that balances gorgeous visuals with a dark-edged fable about the mysteries of life, death, and God. "Life of Pi" resides in a heightened reality where wonders and nightmares intermingle, and it requires the calm, quiet humanity that Sharma and Khan bring to the character. These two actors portray Pi as an everyman on an inner journey that transcends magical to get at something deeply resonant.
Critic's Score: A
Directed by Ang Lee
Casting by Avy Kaufman
Starring Suraj Sharma, Irrfan Khan, Adil Hussain