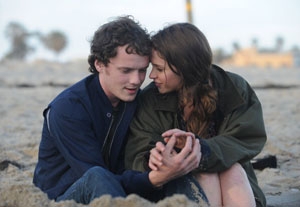 If ever there was an actor's dream project, it would be this unusual and touching story about a seemingly doomed long-distance relationship. Winner of the Grand Jury Prize at Sundance, "Like Crazy" is the kind of slight but human film that can be easily overlooked in a crowded fall landscape of indie darlings. What makes this one stand out, particularly from an acting point of view, is the process by which it was created. Co-writer and director Drake Doremus grew up around the improvisational comedy group The Groundlings (his mother was a founding member), and that seat-of-the-pants style of creation clearly rubbed off. As with Doremus' previous films, "Douchebag" and "Spooner," Doremus and collaborator Ben York Jones do not write a script but instead create a detailed outline and, with the help of the cast, flesh out the dialogue, situations, and characters in an intense rehearsal period. An intimate shoot follows, in which the core of the film takes shape.
In this case, Doremus is blessed with two extremely talented young actors who put themselves through the Doremus boot camp and got to contribute much more than the average actor would ever be able to do in a by-the-numbers film. The story is simple, the roles complex, the actors superb. Anton Yelchin and Felicity Jones (who won the special jury acting prize at Sundance) play young lovers Jacob and Anna, who are swept up in an incredibly intense and fast-moving love affair in Los Angeles, only to find it interrupted when her visa problems force her back to her native London. Now, separated by several thousand miles, they find themselves communicating by text, phone, intermittent and awkward reunions—you name it. This is not the ideal course of young love, and it is further complicated by a relationship Anna starts with a neighbor (Charlie Bewley) and Jacob starts with his assistant (Jennifer Lawrence) in his furniture business. As their respective careers take off (she's a rising junior editor), more complications arise, but Doremus and his actors never drift into the expected clichés of the genre.
Instead, in this small gem they portray intimacy, almost on the reduced scale of an Ingmar Bergman film. There is no bowing to convention, and young couples who watch "Like Crazy" are likely to see themselves in one of the characters. Yelchin has a unique quality that sets him apart from many actors of his generation. There is an awkward rhythm to the way he delivers lines, but it never seems contrived or fake. With the unbridled purity and idealism he brings to Jacob, he is someone anyone could know—and probably does. Jones is extraordinarily real, as Anna dives into what might be a dead-end affair but tenaciously hangs on to those first powerful emotions. There is fine support from Bewley and especially Lawrence (impressive again after her work in last year's "Winter's Bone").
"Like Crazy" is one from the heart; it feels so authentic you almost can't believe it's just a movie.
Genre: Drama
Written by Drake Doremus, Ben York Jones
Directed by Drake Doremus
Starring Anton Yelchin, Felicity Jones, Jennifer Lawrence, Charlie Bewley, Alex Kingston