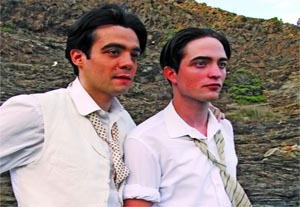 Set in 1922 Madrid during a period of artistic ferment and social-political unrest prior to the Spanish Civil War,
Little Ashes
is a haunting film recounting the fragile relationships among surrealist painter Salvador Dalí (Robert Pattinson), poet-playwright and revolutionary Federico García Lorca (Javier Beltrán), and filmmaker Luis Buñuel (Matthew McNulty), also identified with surrealist aesthetics and radical politics. Handled with a mercifully light touch, the movie explores homosexuality in a church-dominated culture, intense self-destructive jealousy, the cult of celebrity, and outrageousness for its own sake. It is in many ways a strikingly modern account and never dull for a moment. Philippa Goslet's screenplay is subtle, and Paul Morrison's direction is deft and his casting right on.
Pattinson is a standout as the sexually ambiguous and wildly quirky Dalí, given to flamboyant costumes, displays of self-importance, and rehearsed affectations. He is a study in narcissism who becomes his persona. Making his feature film debut, Beltrán does a nice job portraying a sensitive man deeply in love with the wrong person. He is wounded and vulnerable, yet not beyond acts of profound cruelty. McNulty has a smaller role but manages to convey in a few brief appearances Buñuel's repulsion at Dalí and García Lorca's homoerotic bond, while hinting at his own unacknowledged attraction for Dalí. Marina Gatell is also touching as a woman hopelessly in love with García Lorca.
In one of the more disturbing scenes, García Lorca is having sexual relations with Magdalena (Gatell) while Dalí watches. The range of emotions on all their faces—from anguish to humiliation to pleasure to a sense of conspiracy—is memorable. So is an erotic kiss between Dalí and García Lorca during a nighttime swim. Dalí's horror and García Lorca's yearning—tinged with Dalí's yearning and García Lorca's horror—make for layered drama.
The time and place are also vividly captured, from the growing military presence on the streets to the elegantly appointed homes of the upper crust to the bistros frequented by students and artists. Nice work by director of photography Adam Suschitzky and production designer Pere Francesch.
Genre: Drama. Director: Paul
Morrison. Writer: Philippa Goslett. Starring: Javier Beltrán, Robert
Pattinson, Matthew McNulty, Marina Gatell.