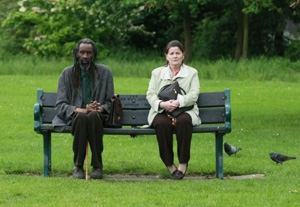 Two fine performances by two veteran actors make up this quietly touching and powerful drama that serves as a wonderful showcase for the talents of Brenda Blethyn and Sotigui Kouyaté. With fine direction by Rachid Bouchareb, this beautiful gem of a film has played the festival circuit from Telluride to Toronto after debuting at Berlin, where it won the best actor prize for Kouyate's nicely detailed and affecting portrayal.
In the aftermath of a 2005 London bus bombing, Elizabeth (Blethyn), a widow from Guernsey, arrives in the city to search for her missing daughter from whom she hasn't heard since the morning of the disaster. At the same time Ousmane, an African Muslim who left his family for a life in Paris, is looking for his son. As both newcomers to London traverse the town, their paths eventually cross, and they learn they have more in common than just these two missing offspring. Although there are multiple themes running through the story, Bouchareb never loses sight of its basic humanity.
The emotional roller coaster Ousmane and Elizabeth are on is built in a very suspenseful manner, as new clues emerge as to the whereabouts of their respective children, and fear and hope alternate as the search continues. As in last year's "The Visitor," a warm, understanding relationship develops between these two virtual strangers who would never meet under normal circumstances. Even though subtitles are used, the language barrier isn't really a problem between them, and the film is not afraid of silences, making these scenes all the more effective for the way they are played out.
Blethyn is at her best since "Secrets and Lies," very moving as a determined mother on a desperate and heartbreakingly hapless mission to find any word about her missing daughter. The actor keeps us in Elizabeth's grip as we take the sad journey with her while she refuses to think the worst. Kouyaté is equally understated and fine, offering a perfect counterpoint to Elizabeth in his muted way. The two play beautifully opposite each other with great ease and poignancy. A scene where Blethyn finally breaks down is gut-wrenching, to say the least.
Although "London River" is an engrossing and engaging drama, it is a victim itself of the dwindling interest in independent adult cinema. Despite its success on the fest circuit, it has so far failed to secure an American distributor but will open for a week in Los Angeles to qualify for awards. Producers are hoping attention at year's end will convince a company to take a chance on an intelligent and compelling motion picture with two of the year's most memorable performances. Let's hope the producers succeed.
Genre: Drama
Written by: Rachid Bouchareb, Zoé Galleron, Olivier Lorelle
Directed by: Rachid Bouchareb
Starring: Brenda Blethyn, Sotigui Kouyaté