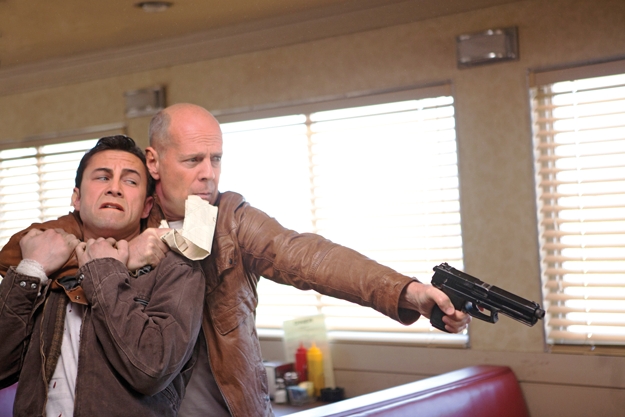 Time travel and dystopian societies are narrative staples of the sci-fi genre, but "Looper" approaches both in unique ways, bringing intelligence and feeling to the familiar tropes. Set in 2044, this thriller concerns Joe (Joseph Gordon-Levitt), a hit man who whacks people sent back in time by mobsters who want no evidence of their crimes. But when the hit man must assassinate his older self (Bruce Willis), which Joe will have the upper hand? That brief plot line only scratches the surface of writer-director Rian Johnson's ambitious effort, which brings together a strong cast that includes Emily Blunt, Jeff Daniels, and, perhaps best of all, Pierce Gagnon as an intriguingly mysterious boy whose fate has grave implications for the two Joes.

Adam Sandler devotes a good percentage of his films to playing outrageous (or is that obnoxious?) Lcharacters. Happily, with the animated "Hotel Transylvania," Sandler has stumbled into one of his most charming roles, providing the voice of Dracula, a chummy widower who runs a top-notch getaway resort for monsters. There's just one problem: He's overprotective of his daughter (Selena Gomez), who's fallen for Jonathan (Andy Samberg), a dopey human who crashes the place. This "Hotel" is packed with the predictable family-film blend of juvenile humor and pop-culture referencing, but at least it has genuine heart. And for the first time in too long, Sandler is playing a funny character rather than a grating caricature.

Hollywood hokum that's nearly rescued by the strength of its acting, "Won't Back Down" tells the story of a beleaguered single mom (Maggie Gyllenhaal) and a dedicated grade school teacher (Viola Davis) who fight government bureaucracy and a powerful teachers union to improve a failing local school. Inspired by true events, "Won't Back Down" plays out like dozens of other inspirational dramas, complete with emotional speeches and underdog spirit, and director Daniel Barnz can't quite overcome the stark familiarity of his unquestionably sincere tribute to some indomitable women. Still, it's impossible not to be moved by both Gyllenhaal's confident turn as a working-class cutie who won't take no for an answer and Davis' good teacher reconnecting with the part of herself that won't settle for just being good.

Anna Kendrick's beguiling adorableness has rarely been better used than in "Pitch Perfect," a hit-or-miss college comedy in which she plays a spunky tomboy who reluctantly joins a prim-and-proper female a cappella group. What we have here is essentially a romantic comedy version of the "Step Up" films—a so-so love story is interspersed with super-fun song-and-dance sequences—and while "Pitch Perfect" is full of fizzy, bitchy one-liners, one wishes the movie had a fourth of Kendrick's pure effervescence. Helping keep things lively are Skylar Astin as a flirty singer from a rival male group and Rebel Wilson as Kendrick's gleefully coarse gal pal.

Many Americans remember the 1992 Summer Olympics as the first time that professional basketball players like Michael Jordan and Magic Johnson competed for the U.S. squad, which was quickly dubbed the Dream Team. "The Other Dream Team" reminds fans that, for another nation, those Olympics meant more than watching a bunch of rich superstars dominate their opponents. This crowd-pleasing documentary looks back at the '92 Lithuanian team, which was playing for its home country after years of being part of the USSR. Director Marius Markevicius briskly recaps Lithuania's rich basketball history and its struggles to break free of Communist rule. In the process, he's produced one of those rare documentaries that might appeal equally to sports buffs and political junkies.