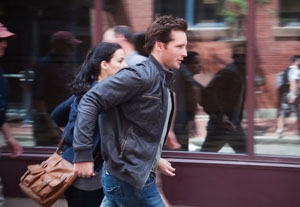 Despite its all-too-familiar story line and characters, "Loosies" is a surprisingly affable film. Told with low-key humor and simplicity, it recounts the misadventures of charming but feckless Italian-American Bobby (Peter Facinelli), who is down on his luck and, through circumstances beyond his control, forced to make his living as a pickpocket in New York City subways. In a rash moment, he lifts the badge off a New York City detective and becomes the focal point of a citywide police search. To complicate matters, he encounters a young woman (Jaimie Alexander), with whom he had a passionate one-night stand months earlier, who is pregnant with his child. Part romance, part crime drama, and part family conflict, "Loosies" is ultimately a coming-of-age tale detailing a young man's journey from petty criminal to responsible, moral adult. The title refers to "Lucy," the girl's name, and our antihero's penchant for purchasing cigarettes by the handful, known as "loosies."
Perhaps best known for his stints as the vampire Carlisle Cullen in the "Twilight" films and the highly respected Dr. Cooper, who suffers from a form of Tourette's syndrome, in "Nurse Jackie," Facinelli makes for an easy and appealing Bobby as he grapples with tough choices. Alexander brings just the right light touch to a lass facing seemingly insurmountable odds. Johnny Cicco is wonderfully creepy playing a stoned low-level thug. But, most impressive are Marianne Leone and Joe Pantoliano as Bobby's mom and her boyfriend. Firmly rooted in a blue-collar outer borough world, the duo charmingly embodies the voice of reason and serves as a contrast to everyone else. Credit must go to director Michael Corrente for shaping the fine ensemble performances and understated acting throughout, while maintaining the film's narrative drive.
Director of photography Sam Oliver Fleischner and production designer Robert Rotondo vividly evoke the city, subways, and bleak interiors that are perfect backdrops for the unfolding story. The script, marking Facinelli's debut as a screenwriter, is inspired by clichés, but its appeal is undeniable. It will be interesting to see his next writing effort.
Genre: Drama
Written by Peter Facinelli
Directed by Michael Corrente
Starring Peter Facinelli, Jaimie Alexander, Joe Pantoliano, Marianne Leone, Johnny Cicco