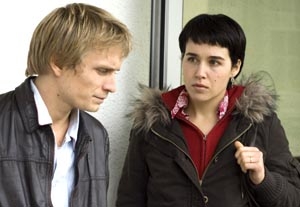 There's a cold-bloodedness to "Lorna's Silence," the latest film from French filmmaking brothers Jean-Pierre and Luc Dardenne. The film is shot in a grainy documentary style, giving the murder-for-profit tale a detached feeling. And the coolness of the filmmaking is matched by the casual amorality of its characters. At least at first. The film's salvation comes in the form of lead actor Arta Dobroshi, whose performance brings warmth and humanity to a story that would otherwise chill your heart.
The film, which won the best screenplay award at Cannes in 2008, follows a noirish plot almost from the start: Lorna (Dobroshi) and her boyfriend Sokol (Alban Ukaj) seek a better life in Belgium. With the help of local gangster Fabio (Fabrizio Rongione), Lorna has married a poor Belgian junkie, Claudy (Jérémie Renier), to gain citizenship papers.  But Fabio has something more sinister in mind: He plans to "help" Claudy overdose, then remarry Lorna to a wealthy Russian. With the profits, Lorna and Sokol will open a café.
But Lorna develops feelings for Claudy as he tries to reform himself, and she decides to change the plan and save Claudy. But the plan goes awry, and Lorna is haunted by guilt.
Unlike American crime dramas, the film eschews the trickery of gauzy close-ups, odd camera angles, and impressionistic flashbacks to drive the story line. Instead, a taut screenplay and naturalistic direction by the Dardennes, who are also documentarians, build suspense through the characters. We watch them make choices and suffer—or profit by—the consequences, and we become fully invested in their struggles. Particularly fine is Renier, who is able to portray his character's profound vulnerability without becoming shrill or unsympathetic. As Claudy, he believably melts Lorna's icy resolve and brings about her redemption, as well as her downfall.
The detached style allows the pace to drag at times. But the thrill comes primarily from watching Lorna evolve from a passive participant to conflicted partner to driving force. Dobroshi creates Lorna with her eyes and body language much more than with her words, particularly in her scenes with Renier. It is an impressive performance to watch and to learn from.
Genre: Crime Drama.
Written and directed by: Jean-Pierre and Luc Dardenne.
Starring:  Arta Dobroshi, Jérémie Renier, Alban Ukaj, Fabrizio Rongione, Morgan Marinne.