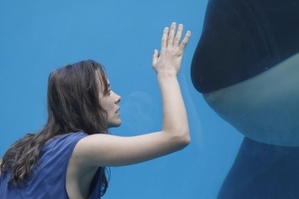 Never before has the South of France been as unglamorous as in Jacques Audiard's "Rust and Bone." Set mostly in Antibes, the French-language drama is awash in the yellowish haze of an old bruise, an entirely apt metaphor for this romantic drama about—what else?—two damaged souls finding love.
Emotionally damaged single father Ali (Mattias Schoenaerts) is struggling with a life that has left him financially dependent on his sister and brother-in-law. He takes a series of security officer jobs, eventually falling into a highly illegal operation that is paid by employers to install security cameras to spy on employees. Marineland employee Stéphanie (Marion Cotillard) is physically damaged when her legs are amputated after an orca attack at work. The pair form a bond based on mutual refusal of sentimentality and companionable silences that eventually deepens into love.
The surprises in "Rust and Bone" are not from the plot, for what could be more obvious at this point in the movie-making game than putting two prickly personalities together and watching as their quills interlock in harmony? The plot plods along through its seemingly mandatory twists (there are many, many melodramatic turns to the script by Audiard and Thomas Bidegain, including one practically out of a Lillian Gish movie); what fascination the film holds is in what critics lovingly refer to as "brave" and "vanity-free" performances from Cotillard and Schoenaerts. She's as deglammed as the Antibes they filmed in; he's a puffy brawler who practically throws any sympathy the audience may feel for Ali back into their faces. Their relationship, at first based on being alone but together, gradually becomes one that transcends gruff friendliness and easy sex.
Cotillard, in particular, is a knockout as Stéphanie precisely because she does not call attention to her restricted mobility. This isn't an actor doing a flashy star turn; Cotillard focuses on the heart of the character more than her physicality, and she's all the more touching for it. The film's most moving scene isn't one of the life-and-death flourishes that pepper the script; it's Stephanie's return to Marineland and her interactions with one of the killer whales that transformed her into a different person. The real love story in "Rust and Bone" is that of two people learning to like themselves for the first time.
Critic's Score: B
Directed by Jacques Audiard
Casting by Richard Rousseau
Starring Marion Cotillard, Matthias Schoenaerts