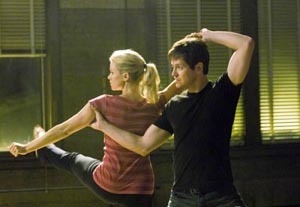 It's hard to believe this film got all the way to theatres with the title
Love N' Dancing
, but—as when a waltz or samba is announced—at least one knows what to expect. Like most dance flicks, this one is overly choreographed, though it has a smattering of trick moves and its players show some grace.
Jake (Tom Malloy, who also wrote the script) is a champion West Coast swing dancer—all the more remarkable because he's deaf—who turns teacher when his flame for competition is snuffed, in no small part thanks to his dance partner–fiancée, Corinne (Nicola Royston). Jessica (Amy Smart), amiably engaged to Kent (Billy Zane), is a schoolteacher who never got a fire started. Teacher teaches teacher: As Jessica discovers that dancing lights her fire, love ignites Jake's.
Malloy and Smart sometimes sail, sometimes stumble, fighting contrived plot points and clunky obligatory dialogue for believability. Their character arcs are so pat, all they can do is provide charm and chemistry; the former is clear, the latter passable. Supporting actors fare best. Zane has more room to explore and garners laughs with his good-natured, coarse but apologetic salesman. Caroline Rhea is all sarcasm and unfettered joy as Jessica's colleague. Rachel Dratch, Leila Arcieri, Tatiana Mollmann, and Benji Schwimmer shine in bit parts, and there's a fun cameo from Betty White.
Though bland and by-the-book, Robert Iscove's direction wisely avoids the kind of flashy camerawork that might distract from or overshadow the dance numbers, which are the highlight. The amateur sequences are appropriately unpolished; the pro numbers sparkle, though Malloy's dances with Smart and real-life swing champ Royston don't match the level of the other pairings—which include
So You Think You Can Dance
's Schwimmer and Heidi Groskreutz, real-life dance partners Mollmann and Jordan Frisbee, and Ronnie DeBenedetta and Brandi Tobias.
Love N' Dancing
tries for offbeat and thus generates moments of unexpected humor, but it doesn't have quite enough quirk to work. Nor is the terpsichorean talent enough to recommend it.
Genre: Drama/Romance
Written by: Tom Malloy
Directed by: Robert Iscove
Starring: Tom Malloy, Amy Smart, Billy Zane, Caroline Rhea, Rachel Dratch, Nicola Royston