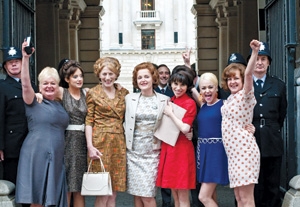 Although it deals with British female factory workers fighting for equal pay and rights by going on a well-publicized strike in late-1960s England, "Made in Dagenham" isn't trying to be an earnest piece of socially relevant filmmaking like, say, "Norma Rae." While "Dagenham" certainly has things in common with the Sally Field union drama, it intentionally takes a much lighter tone and carves out its own territory. A stellar group of actors makes this trip to the rather dreary-looking English factory town a terrific time at the movies.
Based on a true story, the film follows a group of seemingly unremarkable working-class women as they stand up for their rights at the Ford Motor Co., toiling in sweatshop-like conditions in a leaky old building while their male counterparts get to work in a brand-new facility. The women are seamstresses, sewing car seat upholstery, but they have been reclassified as "unskilled" labor who receive a small fraction of what the guys pull down. Rita O'Grady (Sally Hawkins) knows this fact intimately, as her husband, Eddie (Danny Mays), is one of those men.
When the women's sweetly sympathetic union rep, Albert (Bob Hoskins), prods the women to bring their grievances to the bosses, Rita attends the meeting and gets politicized after a brushoff from Ford's head of industrial relations, Peter Hopkins (Rupert Graves). She speaks out and refuses to be treated with that kind of disrespect, threatening a strike if the women aren't treated correctly and offered pay parity. Of course these women could not bring down the company alone, but if their quest for equal pay takes hold, it could spread. After they strike, they receive support from such unlikely allies as Hopkins' Cambridge-educated wife (Rosamund Pike) and the British government's secretary of state for employment and productivity, Barbara Castle (Miranda Richardson).
It is heart and soul and pluck and determination that see these women through, and the same can be said about what director Nigel Cole and writer William Ivory invest in this picture. Cole certainly knows his way around female actors, having also directed the similar-in-tone "Calendar Girls," which, like "Dagenham," boasted a terrific ensemble cast. Hawkins is perfectly cast, just the right combo of sweetness, capability, and growing anger to make us believe she could lead this band of women into battle with a giant auto manufacturer. Hawkins is beautifully supported by Geraldine James as the veteran shop steward who also deals with her ill hubby; Andrea Riseborough, the sexy young free spirit; and Jaime Winstone, who works in the factory but really has aspirations for a modeling career in nearby London. Hoskins delivers his usual solid work, although his character disappears in the film's second half. Pike is quite moving and effective, while Richardson nearly steals the whole show as the very un-Margaret Thatcher-like Castle.
If you enjoy small British films with superior acting this one is made for you.


Genre: Comedy/Drama

Directed by: Nigel Cole

Screenplay by: William Ivory

Starring: Sally Hawkins, Bob Hoskins, Rosamund Pike, Miranda Richardson, Rupert Graves, Andrea Riseborough, Jaime Winstone, Geraldine James.