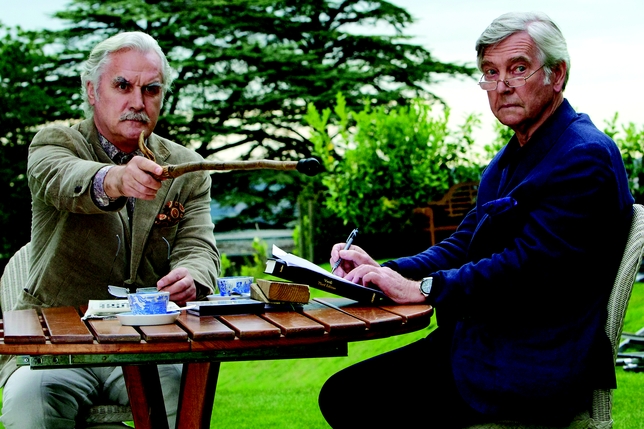 Dustin Hoffman makes his directorial debut with "Quartet," and the question isn't why he waited so long; the question is why? This flimsy exercise in the peculiarly British sub-genre of elderly people doing wacky things lacks the intensity and audacity of Hoffman's career, even as its crackerjack cast of British acting royalty seems to be having a ball.
Consider "Quartet," about a group of crotchety music professionals at a bucolic retirement home, a cross between "Cocoon" and a coming-of-age summer camp movie. While planning the annual gala to raise enough funds to keep the institute afloat for another year, the usual fits, fights, feuds, and egos erupt—along with elderly passions.
The romance at the center of "Quartet" is between former opera stars Jean (Maggie Smith) and Reg (Tom Courtenay), married briefly decades before and now coming face to face again when Jean moves in. And that is the plot. What keeps "Quartet" from languishing is both the quality of the acting—Pauline Collins is lovably daffy as the addled Cissy, and Billy Connolly quite funny as Wilf, who is left without a filter after suffering a stroke—and the sense of genuine fun that lingers around the edges of the frame. The combination of actors and real-life opera stars and musicians (including Gwyneth Jones) makes for a surreal, pastel environment; it's as if instead of moldering away in her Hollywood monstrosity, Norma Desmond moved into a retirement home and made friends with similarly outsized personalities.
That sense of mischievous line blurring enables one to forgive "Quartet" a multitude of sins, including a ludicrous reason for Reg and Jean's decades-long détente and a textbook montage scene of Jean emerging from her long absence from singing to participate in the gala, complete with angry scenes in pantomime and thrilling smiles when she achieves the notes she thought she'd lost. That the movie is often very funny isn't surprising given its cast of pros; that "Quartet" exists solely because of its cast and not because of the two-time Oscar winner behind the camera, however, is.
Critic's Score: B
Directed by Dustin Hoffman
Casting by Lucy Bevan
Starring Maggie Smith, Billy Connolly, Tom Courtenay