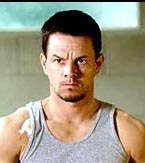 There are several adages actors should follow when considering a film role: Never work with children, cute barnyard animals, or do movie adaptations of video games. Mark Wahlberg says he had great trepidation in taking on the role of Max Payne because it originated in a 2001 game, but the material was irresistible. He should have resisted. It's not that it's all bad; it's just not as good as it could have been.
Perhaps it's the dark, foreboding mood established by director John Moore (The Omen) that makes Max Payne feel like a mere shadow of The Dark Knight or even The Matrix. The influences are obvious, but the execution is middling. Where the film really goes off track (and deviates from its source material as well) is in the creation of a winged creature that haunts Max and may or may not be a figment of his tortured imagination, representing all the demons plaguing our hero.
Max is a glum DEA agent investigating a series of murders that could be connected to the tragic death of his wife and newborn baby. Along with Russian mobster and assassin Mona Sax (Mila Kunis), whose sister was a victim, he is thrust into the mystery of the killings. Complicating matters for Max is his old mentor and friend, BB (played, appropriately, by another BB — Beau Bridges), a former cop now handling security for a large pharmaceutical firm. BB tries to help Max in his quest along with internal affairs detective Jim Bravura (Chris "Ludacris" Bridges), who seems to sense what's really going on in the mind of Max Payne.
There are plenty of twists and turns and lots of action, but none of it fully connects us to Max's quest. Flashbacks show he was once a happy guy, but the brutal deaths of his wife and baby have brought out his dark side, and that's where he exists as he seeks revenge for the fate that has befallen him. Wahlberg gets to kick a lot of ass and look sullen and grim for most of the running time, but he never gets behind the emotion of a man who has lost everything that ever meant anything to him. It's almost a Death Wish scenario at play here but without the amount of passion required.
As for the other actors, Kunis (Forgetting Sarah Marshall) is gorgeous and acquits herself well as an action heroine. Beau Bridges is all pro as the complex ex-cop who befriends Max but may not be all he seems, while the other Bridges, as in Ludacris, is earnest and helpful. Ukrainian beauty Olga Kurylenko turns up as the thrill-seeking Natasha, younger sister to Mona, and Chris O'Donnell has a small, wimpy role as an executive at the pharmaceutical company that plays a key part in the plot and eventual outcome. Amaury Nolasco (Prison Break) has a minor bit as an extremely tough member of the drug underground Payne encounters.
Certainly there have been worse films of this ilk; for all but the most avid gamers out there, though, this film version of Max Payne may just have you feeling pain to the max.
Genre: Action
Directed by: John Moore
Written by: Beau Thorne
Starring: Mark Wahlberg, Mila Kunis, Olga Kurylenko, Beau Bridges, Chris "Ludacris" Bridges