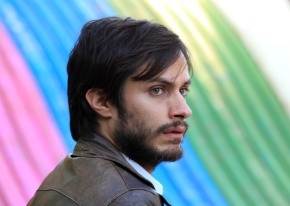 Oh, the power of cheap advertising. It can sell Coca-Cola, inspire vacations to Cancún, and, in 1988 Chile, kick an oppressive dictator out of power. This real-life event is grippingly retold in a film simply titled "No," an Oscar nominee this year for best foreign-language film. Should you see it? Yes.
When military dictator Augusto Pinochet is forced to call a plebiscite on his presidency, the public must vote yes or no to keep him in office for another eight years. In a move that stuns the president's supporters, the No campaign hires a good-looking, supremely charismatic (and apparently fictional) ad exec named René Saavedra (Gael García Bernal) to come up with a TV campaign to convince people to oust their dictator.
Saavedra is faced with an insurmountable challenge: How do you inspire a public to vote yes to No? How do you sell a negation, whose platform is what it does not give you?
Director Pablo Larraín's approach to Pedro Peirano's screenplay goes beyond mere moviemaking. "No" is an offshoot of cinéma vérité that entices the viewer to gladly sit up and pay attention. Shot entirely with analog video cameras from the 1980s, the film looks like your family's VHS Thanksgiving home movies from the Reagan years. When paired with archival footage of the real No movement, the abysmal video quality takes on a hypnotic time-traveling surrealism, making the line between fiction and fact nearly imperceptible.
Understated acting completes the conceit. The seemingly improvised scenes are paced with a quiescent monotone, exemplified by Bernal's absolutely unflashy charm. It sounds dull, but it places the gripping situational drama at the forefront rather than relying on clichéd filmic histrionics valued by big-budget Hollywood.
Real energy comes with the gangbusters No campaign dreamed up by Saavedra. Many of the actual '80s TV spots are used; the boisterous and hilarious ads meant to oust a military dictatorship are first cousins to "I'm a Pepper, You're a Pepper." Finding the peppiest jingle possible even figures in the plot.
The success of the silly commercials is tempered with the political reality. Saavedra's career is at stake when his boss (played with jealous malignancy by Alfredo Castro) takes over the Yes campaign. Even Saavedra's son's life is jeopardized by the shadowing presence of Pinochet's henchmen.
The film's core is the power of cheap advertising done smartly and the introduction of commercialization to an unsuspecting populace. Americans have long lived in a world where the medium's message makes us choose McDonald's over Burger King. Who knew it could also incite a national revolution?
Critic's Score: A+
Directed by Pablo Larraín
Starring Gael García Bernal, Alfredo Castro, Antonia Zegers