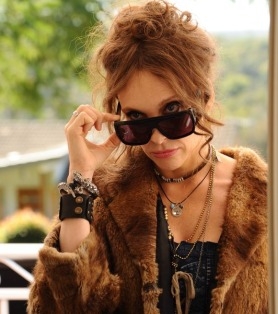 Raunchy and strange, Australian film "Mental" zigs and zags in surprising ways. When their "Sound of Music"–loving mother is institutionalized—broken down by a gaggle of daughters and an absentee father—the Moochmore girls are shocked out of a navel-gazing obsession with their allegedly fragile mental health by the arrival of the tough, big-eyed Shaz. She smokes joints in the house. She keeps a knife in her boot. And she threatens to have her dog eat the girls alive if they neglect the housework. In short, she's a loony Mary Poppins come to upset the rigid conformity of Australian suburbia.
"Mental" also happens to be the reteaming of Toni Collette and director P.J. Hogan, who first made their names with 1994's "Muriel's Wedding." Freed either by working with the man responsible for her breakout role or by the chance to use her actual accent for once, Collette makes a triumphant return to the big screen, reminding audiences of how much we've missed her while she toiled away on Showtime's "United States of Tara." She's loud, uncouth, and unhinged—and she's both perfectly in keeping with the comedy zeitgeist and unmistakably her own weird creation.
There are possibly more sudden plot shifts than are necessary, including a bearded shark hunter with a menacing aura (Liev Schreiber), a mayoral run, bitchy neighbors, lesbian love affairs, and one bizarrely moving performance of "Edelweiss," and the tone is all over the place, but Collette anchors it all magnificently. Whether she's avenging the Moochmores or seeking closure for her disturbed past, she's never less than riveting.
The rest of the cast is equally watchable, from Anthony LaPaglia as the self-involved Moochmore patriarch to Rebecca Gibney's fragile, kindly mother. And Hogan refuses to allow his cast of young actors to cross the line into adorability; under his direction, they seem entirely capable of driving their poor, insecure mother to a rest home before Shaz gets her hands on them. At a time when conformity is all the rage, when rough edges are sanded off until characters learn how to navigate the world doing an impression of normalcy, a movie that celebrates the weirdoes and the offbeat is more than welcome—it's necessary.
Critic's Score: A
Directed by P.J. Hogan
Cast by Christine King
Starring Toni Collette, Liev Schreiber, Anthony LaPaglia, Rebecca Gibney