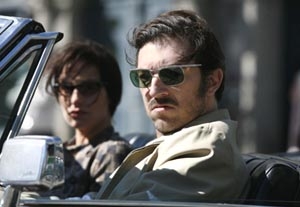 In November 1979,
Jacques Mésrine
pulled his BMW up to a stoplight behind a large truck, his girlfriend in the seat beside him. A moment later, the truck's back flap swung open and a group of heavily armed policemen fired their weapons at the couple. Nineteen shots hit the vehicle—killing Mésrine and seriously injuring the woman.
In a career spanning 17 years across France, Canada, and the United States, Mésrine was one of France's most colorful criminals. He robbed banks—sometimes two in one day—and kidnapped millionaires, judges, journalists, and others. He escaped from prison multiple times. He also claimed to have killed as many as 39 people. Though Mésrine donned myriad disguises to commit his crimes—some called him "The Man of a Hundred Faces"—he loved publicity; he would tell journalists his crimes were his way of fighting the establishment.
To capture the scope of Mésrine's long and brutal career, writer-director
Jean-François Richet
("Assault on Precinct 13") and co-writer Abdel Raouf Dafri made two films. "
Mésrine: Killer Instinct
" is the first. This 2008 French movie starring
Vincent Cassel
("Ocean's 12") as in the title role is based mainly on a memoir by the criminal himself, "L'instinct de mort," which Mésrine wrote in 1977 while serving a sentence at France's La Santé prison. (He later escaped.) The film starts with Mésrine's ignominious end, then focuses on his early years, showing his slow rise from petty thief to fearless killer.
First exposed to brutality as a French soldier in Algeria in 1959, Mésrine is discharged and returns to his parents' house in Paris, but he quickly realizes that the middle-class life will not work for him. He commits small robberies with local gangsters Guido (
Gérard Depardieu
) and Paul (Gilles Lellouche). But when Mésrine meets and marries Sofia (
Elena Anaya
), with whom he has two children, he tries to go straight. But the call of crime is too strong; they divorce, and by 1966 he is a full-time criminal. Like Henry Hill of "Goodfellas," robbery becomes Mésrine's job.
At this point Mesrine meets the Bonnie to his Clyde: Jeanne Schneider (
Cécile De France
) is his equal in boldness and thirst for adventure. Traveling to Quebec, they work as servants for a handicapped millionaire (Gilbert Sicotte), then kidnap him for ransom. The plan goes awry, and the pair are captured and sent to separate prisons. Enduring brutal conditions, Mésrine and accomplice Jean-Paul Mercier (Roy Dupuis) escape Canada's Saint-Vincent-de-Paul prison only to return weeks later and attack the facility, trying to free fellow inmates. The escape makes him infamous.
The 113-minute film does a careful job to show that Mésrine was not born a criminal but became one over time. However, much of the film falls into the biopic trap of showing a greatest-hits version of a person's life: a series of quick little familiar moments without real character development. It's not until two-thirds of the way through—when Mésrine gets to prison—that the filmmakers slow down and capture something of the criminal's complex personality.
As the film is about Mésrine, Cassel dominates much of the action. At first, he looks awkward behind a series of wigs and dated clothes. But his portrayal comes to life once Mésrine meets Schneider and, later, Mercier. Everything snaps perfectly into place—and, more important, it builds strong anticipation for the second film.
Despite Depardieu's domineering presence, he gives a perfunctory performance as Mésrine's early mentor, reminiscent of a late-career Orson Welles. Anaya is engaging as the young Spanish beauty Mésrine marries, but her role is too brief to create a very rounded portrait. And De France is a pitch-perfect match for Cassel, but evokes the amoral executive Faye Dunaway played in "Network" more than her Bonnie Parker in Arthur Penn's classic.
Written by: Jean-François Richet and Abdel Raouf Dafri.
Directed by: Jean-François Richet.
Starring: Vincent Cassel, Gérard Depardieu, Cécile De France, Elena Anaya, Roy Dupuis, Gilles Lellouche.