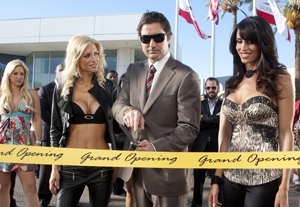 Some will be tempted to compare this film with those of Tarantino or with "Boogie Nights." But writer-director George Gallo's "Middle Men," chronicling the birth of the multibillion-dollar Internet porn industry, marches to the beat of its own drummer. The film expertly mixes absurd black comedy and compelling dramatics into a 99 percent true story about a guy who stumbled onto a major moneymaking idea only to get in over his head and nearly destroy his family life in the process. With outstanding performances from a brilliant ensemble cast, "Middle Men" turns out to be wickedly entertaining, with some of the best acting you may see all year. Although the subject matter revolves around the ever-changing industry of porn distribution, the film is quite light on porn, preferring instead to tell the story of the guys who made it possible in cyberspace.
Luke Wilson plays Jack Harris, a dedicated family man and fix-it guy for broken companies, who stumbles onto a primitive business run by a couple of coked-out imbeciles who have figured out a way to deliver porn on the then-fledgling Internet. The two nitwits, Wayne Beering (Giovanni Ribisi) and Buck Dolby (Gabriel Macht), put photos of nude girls online and charge people to look at them. When their business starts taking off, they diversify and start their own production at a strip club owned by villainous Russians who get into business with them. Enter Harris, who figures out that the best way to make a lot of loot while keeping their hands clean is to act as "middle men" who simply serve as facilitators of transactions between the pornographers and the customers. Sooner than you can say Dirk Diggler, the scheme takes hold and the money starts pouring in, unfortunately attracting a lot of seedy characters and wreaking havoc on Harris' marriage to Diana (Jacinda Barrett) when he gets involved with gorgeous porn star Audrey Dawns (Laura Ramsey). By the time an FBI agent (a very fine Kevin Pollak) enters the picture, Harris is trying to dig himself out of a very deep hole as everything starts to crumble around him.
Gallo and co-writer Andy Weiss got their story directly from one of the film's key producers: Christopher Mallick, the real-life version of Jack Harris. The air of authenticity that hangs over the film because of this connection is much needed, as many of the events depicted seem larger than life and ripped from other mob films. Shooting with verve and great style, Gallo lets "Middle Men" serve as a great showcase for his actors. Wilson (who also narrates the story) has never been better, commanding the screen with a newfound confidence. Ribisi and Macht steal every scene they are in with their dumb-and-dumber act, while Rade Serbedzija deliciously serves up the latest Russian baddie in a movie year full of them. James Caan has a few colorful moments, and Kelsey Grammer is terrific in a one-scene cameo as an oily Texas politician with a secret thing for "tittie" websites. Both main female roles are expertly played, Ramsey a particular standout as a sexually manipulative adult-film star.
Our rating? XXXcellent.
Genre: Drama. Written by: George Gallo and Andy Weiss. Directed by: George Gallo. Starring: Luke Wilson, Giovanni Ribisi, Gabriel Macht, James Caan, Laura Ramsey, Jacinda Barrett, Kelsey Grammer, Kevin Pollak, Rade Serbedzija, Terry Crews, Robert Forster.