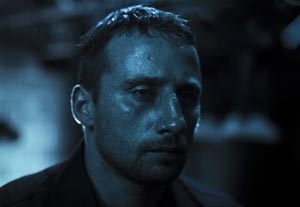 Perhaps the biggest surprise among this year's Oscar nominations for best foreign language film is "Bullhead," a tough, uncompromising, and not-always-easy-to-take drama from Belgium. That the country chose to enter this film over its more popular and prominent Cannes Film Festival sensations—"The Kid With a Bike" (from Belgium's most famous filmmakers, the Dardenne brothers) and Directors' Fortnight winner "Les Géants"—says it all, though, and the Academy should be congratulated for recognizing this gritty masterwork from a promising new director, Michael R. Roskam, in his feature-film debut.
The plot revolves around the illegal growth-hormone trade and the mafia that controls it. Specifically, though, it is the tragic story of Jacky Vanmarsenille, brilliantly played by the big, bulky, and imposing Matthias Schoenaerts, who gained 60 pounds for the role and looks every inch of it. Jacky, who is part of a farm family up to no good, is rough, mean, and violent, with a past that unfolds before us in unsettling flashbacks to his youth. These are triggered by a modern turf war and the emergence of someone Jacky hasn't seen in 20 years and explain the connection between the two of them and the incident that forever changed their lives.
Although the hormone-laced European beef trade is at the center of this fine crime drama, it is Jacky's addiction to the kind of steroids injected into farm animals that has such an impact on his life and actions. At its heart, "Bullhead" (originally known as "Rundskop") is a riveting page-turner, aided by its gorgeous pastoral scenes of the Belgian countryside. Even though the climax is predictable, getting to it is a journey worth taking for those who can stand the tale's grim nature.
The soul of the film is found in Schoenaerts' brave portrayal of a human monster of a man whose life was forever damaged by an unfortunate boyhood. Although on the surface this is not a character any audience is going to want to identify with, the 20-year acting vet makes us care for him in odd ways. It's an extraordinary achievement considering who Jacky really is, and it's even more impressive when you realize it's done without the aid of a lot of words. Schoenaerts reverts to the essence of great screen acting and plays this role mostly with physical tics and through his eyes. He's a quiet, forceful, unforgettable presence onscreen, and his portrayal stays with us long after we leave the theater.
As Diederik Maes, Jacky's main nemesis in this criminal underworld, relative newcomer Jeroen Perceval is also perfectly cast, as are the two actors who play younger versions of Jacky and Diederik in flashbacks, Robin Valvekens and Baudoin Wolwertz. But Schoenaerts dominates, with a balls-out performance that portends even greater things from the Belgian star.
Genre: Crime Drama
Director: Michael R. Roskam
Writer: Michael R. Roskam
Cast: Matthias Schoenaerts, Jeroen Perceval, Robin Valvekens, Baudoin Wolwertz