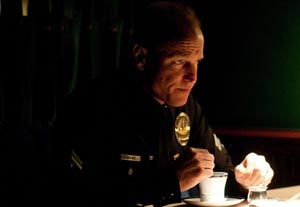 Uneven in spots and not always totally convincing, "Rampart" still manages to work well, even soar, on the wings of an impressive cast and its star, Woody Harrelson, in a career-best performance as Dave Brown, a corrupt cop caught up in the Rampart police scandals in Los Angeles circa the late 1990s. Harrelson grabs hold of this guy, who is deceptively normal when he's around his bosses but despicable when left to his own devices out in the field. He's a sociopath, with no sense of right, wrong, or honor. Even his attempt at a decent relationship with his young daughter (nicely played by Sammy Boyarsky) can't quite redeem him, though Harrelson gets major points for making Brown even halfway understandable and a three-dimensional, flawed human being.
A serial womanizer and 100 percent racist, this cop just does not know how to stop. Perhaps the Vietnam vet never got over the atrocities of war and transfers them to his nearly 25-year police career, which comes crashing down when Brown is caught on tape involved in the senseless and extremely violent beating of a suspected criminal.
Still, this is a fascinating character, and Harrelson never lets up, completely inhabiting this sexual predator and gross excuse for a father, cop, and human being. Writer-director Oren Moverman guided Harrelson to a supporting actor nomination a couple of years ago for his startlingly fine work in "The Messenger," and it is crystal clear that the two men have a shorthand way of working. Moverman taps into a ferocity and energy Harrelson has not displayed before, at least in a solid leading role.
Considering that "Rampart" is such a one-man show, it's remarkable that the large cast comes off as well as it does. Standouts include a very fine Sigourney Weaver, as a high-ranking LAPD suit; Ice Cube, nicely underplaying it as an internal affairs investigator; and Harrelson's "Messenger" co-star Ben Foster, who convincingly portrays a paraplegic cokehead but unfortunately doesn't get much opportunity to develop him. Three more female stars also score in their few scenes: Robin Wright is a lawyer who represents victims of the kind of police violence that Dave Brown practices, and Cynthia Nixon and Anne Heche have novel roles as ex-wives of Brown (they are also sisters, which is a bit forced but doesn't destroy the thrust of the story).
Some of this is filmed in such a gritty fashion that the movie almost feels like a documentary. At times the realistic approach is annoying, as all eyes are on Harrelson, and the arty setups can distract from the pure power of his performance.
"Rampart" had a brief Oscar-qualifying run in December and is opening now in regular runs. Certainly Harrelson deserved strong consideration, but even without that Oscar nomination this is a performance worth catching and savoring.
Genre: Drama
Director: Oren Moverman
Writers: Oren Moverman and James Ellroy
Cast: Woody Harrelson, Sigourney Weaver, Ben Foster, Cynthia Nixon, Anne Heche, Sammy Boyarsky, Robin Wright, Ice Cube, Steve Buscemi, Ned Beatty, Audra McDonald