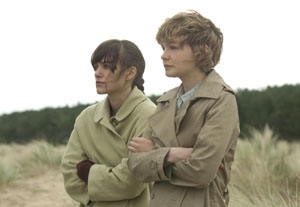 The storytelling is compelling, the filming gorgeous, the acting sensational, and the sum total haunting. We now plunge into spoilers.
In a cryptic voiceover at the film's start, the 28-year-old Kathy (Carey Mulligan) says she has been a "carer" for "donors." The story then drifts back in time to follow Kathy and her fellow students at an English boarding school in the 1960s. How do we know it's the '60s? Aside from the terrific costume design by Rachael Fleming and Steven Noble, as well as art direction—including sentimental props—by Paul Cripps and Denis Schnegg, the film specifically states the date. And therein lies the tiny piece of information that keeps this film rooted in an unlikely reality rather than in pure metaphor.
The screenplay by Alex Garland is based on the novel of the same name by Kazuo Ishiguro. Mark Romanek directs with languid but entrancing pacing and a flair for the periods, creating feelings of nostalgia and inevitability. The boarding school is peculiar. Its atmosphere is eerie. Students are overprotected. And so the mood and story unfold. Kathy has made two close friends in school: Ruth and Tommy. In the schooldays scenes, the three are played by Izzy Meikle-Small, Charlie Rowe, and Ella Purnell, respectively, and they are terrific, each full of light and shadow and immersed in their characters' world. But the film's specificity of time and place distracts us from believing that what we suspect is going on could have gone on then and there. The idea might have existed, but the science did not.
Yes, at some point it may dawn on the viewer that these three students and their chums have been bred and cautiously groomed to give up body parts to sick and dying recipients. They are the donors, whom this brave new world calls upon to sacrifice organs and limbs, apparently until they can no longer survive.
As the students grow up, they graduate and move into dreary "cottages," then go about their intended careers. Mulligan, now onscreen as the grown Kathy, is joined by Andrew Garfield as Tommy and Keira Knightley as Ruth. This trio is wonderful, individually and working together. Mulligan is gentle and guileless as the sympathetic third wheel; Garfield is a heartbreaker as the sensitive, gawky Andrew; and Knightley offers some of her best, most understated work yet as the manipulative Ruth. Charlotte Rampling is kindly yet disturbing as the protective schoolmistress, and Sally Hawkins carries the moral center as the freely spoken teacher.
What makes us human? What compels us to love and hate? Why do we sacrifice self for the greater good? What is it about society—and perhaps English society more than most—that causes most people to fall into a preordained line? Is it our innate desire to maintain a social order, or have we been particularly responsive to brainwashing? These questions, and the film, will long haunt us.
Genre: Drama. Written by: Kazuo Ishiguro (novel) and Alex Garland (screenplay). Directed by: Mark Romanek. Starring: Carey Mulligan, Andrew Garfield, Keira Knightley.