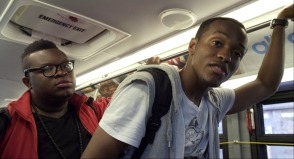 A few Bronx teens are making a movie. Lucky for them, they get big-budget artistic visionary Michel Gondry to write and direct it. "The We and the I" is a throwback to the genre of white teacher coming to inner city school and saving the day, except here, Gondry is the teacher and "The We and the I" is the high-level end-of-year class project. He teamed with teenagers from a South Bronx community arts center called The Point to sculpt his story and use as actors. Through no fault of the enthusiastic teens, the result is not as interesting as the piece wants to be.
Gondry is always game for a challenge. Despite occasional flashbacks utilizing his trademark whimsical theatrics, he sets 98 percent of the film entirely on a single public bus taken over by a mob of teens commuting home after school. The bus becomes as cinematically wide and rich as the city itself; the front, back, and middle—even just two random seats—whisk us to vastly different locations that each encapsulate distinct emotional worlds.
Anyone who lives in a metropolis has felt the thud of tolerance and dread at riding public transportation alongside rowdy teens. Because an affluent white filmmaker spearheads the film, liberal penitence is at work. For almost two hours, we can't get off or switch cars at the next stop; we must sit and try to understand these kids.
Four teens at the back are familiar nightmares, imposing themselves on commuters and flagrantly breaking laws. Most of the kids, however, are full of typical high school dreams and angst to the point of banality, from the snotty girl stressing over her Sweet Sixteen to the nerdy boy who yearns for a cute gal.
The myriad actual issues facing kids in urban schools are willfully sidestepped. The whole conceit is a revisionist fantasy presented as high school pageant that insists on the normalcy of the urban teen experience. "They're just like us!" Gondry seems to cry. His goal is to "keep it real," particularly by using unpolished nonprofessionals as actors. The teens do mostly credible jobs playing characters named after themselves, with a few standouts. Teresa Lynn, who plays an outcast drawn to her bullies, bravely allows her deepest emotions to break through the clouds. Jonathan Ortiz naturally encapsulates a youth whose anger is unleashed in malevolence towards others. These two live their lines, rather than play-act in a project.
Each child, even those playing bullies, gives us something to root for—not from Gondry's saccharine narrative, but from their impassioned commitment to realizing his, and their own, creative visions.
Critic's Score: B
Directed by Michel Gondry
Casting by Mellicent Dyane
Starring Michael Brodie, Teresa Lynn, Jonathan Ortiz