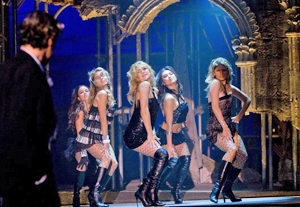 With "Chicago" (2002), director-choreographer Rob Marshall made a notable leap from theater to film, earning an Oscar nomination for his maiden film-directing effort. The celluloid version of the 1975 Broadway musical was heralded as a triumphant return to form for the movie-musical genre. It's thus disappointing and a bit startling that in Marshall's second time at bat with a film musical, his creative instincts have seemingly abandoned him. This star-studded and lavish screen adaptation of the 1982 Broadway tuner (based on Federico Fellini's autobiographical Italian film "8-1/2") languishes in artistic limbo, somewhere between lumbering music video and pretentiously vapid art-house film, failing to reflect a discernible artistic vision.
The inspired stylistic techniques that made "Chicago" such a seamless amalgam of stage and film conventions come across here as artificial, tedious, and largely incoherent. Ironically, this film raises questions about the worth of the original stage musical. Except for the show's best-known song, "Be Italian," smashingly performed by Fergie, plus a couple of entertaining new tunes, the Maury Yeston score is less than electrifying. Worse yet, Marshall's clunky attempts to convey images of reality that slide into musical fantasy are jarring.
The story centers on famed film director Guido Contini (Daniel Day-Lewis), who is suffering from creative block as he begins filming his latest epic. A soundstage in Rome is the place where Contini's recollections of the various women in his life are transposed into musical numbers illuminating his emotions as he struggles to  forge a filmic concept. This is similar to the technique Marshall used in "Chicago," in which Roxie Hart's dreams of a showbiz career turned all of the incidents surrounding her into fanciful song-and-dance sequences. This time, the device feels inorganic and self-conscious.
Yet the stage musical's episodic narrative allows Marshall and the producers to populate the film with a stellar assemblage of currently prominent female stars, peppered by the nostalgic inclusion of Italian cinema legend Sophia Loren, as Contini's mother. For the most part, these female actors—who are not usually identified as musical performers—sing capably. To deflect attention from the less-than-showstopping dance skills of most of them, Marshall employs quick cuts and long-shot views that give the film a stagy, claustrophobic feel.
Thankfully, the seasoned cast escapes unscathed. Kate Hudson, as a flirty journalist from Vogue, sparkles in Yeston's splashy new number, "Cinema Italiano." Nicole Kidman, as Contini's muse and frequent female lead, has too little to do but carries it off with class. The same can be said about the ever-glamorous Loren. The heftiest female roles are in the skilled hands of Marion Cotillard as Guido's neglected wife and Penélope Cruz as his histrionic mistress. Judi Dench makes the most of her supporting turn as Guido's costumer and confidante, enjoying her moment in the spotlight in the peppy "Folies Bergère" number. Day-Lewis' portrayal of the tortured artiste is bolstered by the droll sense of humor the actor brings to the character. He's also a fine singer.
"Nine" might be of some interest to Fellini fans and admirers of these illustrious performers. Movie-musical mavens can expect a less-satisfying time.
Genre: Musical
Written by: Anthony Minghella and Michael Tolkin. Score by: Maury Yeston.
Directed by: Rob Marshall
Starring: Daniel Day-Lewis, Penélope Cruz, Marion Cotillard, Nicole Kidman, Judi Dench, Fergie, Sophia Loren, Kate Hudson