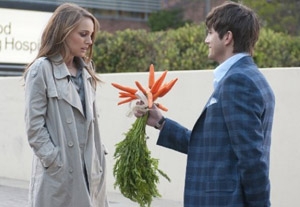 "Can sex friends stay best friends?" That's the intriguing premise—and ad line—of the new comedy "No Strings Attached." This is the ultimate feel-good movie, largely because the main "romantic" leads, played by Natalie Portman and Ashton Kutcher, only want to, well, feel good. In a clever switch on most flicks of this ilk, Portman plays Emma, a medical student who wants nothing to do with serious relationships and instead finds herself hooking up with TV writer Adam (Kutcher) in a purely sexual, no-cuddling-ever union. Unfortunately, complications set in as Adam tends to be more female-like in his romantic proclivities and seeks a more stable arrangement, while Emma—very clear where her desires lie—only wants his body and nothing else. Directed by Ivan Reitman and written by a woman, Elizabeth Meriwether, the raunchy film intriguingly skirts larger themes of commitment and lack of emotional, one-on-one human involvement in the Internet age, basically sticking to the nuts and bolts of its mission to deliver a sexy romp without a whole lot on its mind.
So what's the deal with Portman? Coming off her much-lauded, Oscar-bound portrayal of a demented ballerina in "Black Swan," she seems to be in every other movie coming out for the rest of the year. We can see, though, why she might want to lose the intensity of that film by diving into this little frolic, but no demands are put on her acting talent here. In fact, she seems a little miscast, almost too smart to pull off this sexaholic act. She and Kutcher are also mismatched height-wise, causing it to seem as if he's constantly towering over her. Still, Portman is always watchable and brings more to the role than the usual suspects for this kind of thing might have—think Jennifer Aniston or Kate Hudson, and you get the idea of the character. It is refreshing to see the gender bender here, as it's the woman who wants to get up in the middle of the night and leave, who doesn't want to cuddle, who wants no commitment. Nice for a change.
Kutcher doesn't get much credit from critics, but he's an affable presence and a fine comedian, perfect for this sort of likable, buffoonish slacker. He carries his weight laugh-wise but also is credible in tender moments. And he gets naked a lot as the perfect sexual object, which seems to be the whole idea here. Kevin Kline, playing his washed-up-TV-star philandering father, seems to be having a great time, and there's a fun subplot involving Dad's dating his son's ex-girlfriend Vanessa (Ophelia Lovibond). Of course, the film is full of the usual supporting "friends," including a funny turn from Chris "Ludacris" Bridges and a manic performance by Lake Bell, who plays a romantic interest of Adam's like she was doing an impression of Sandra Bullock.
Genre: Comedy
Written by: Elizabeth Meriwether
Directed by: Ivan Reitman
Starring: Ashton Kutcher, Natalie Portman, Kevin Kline, Chris "Ludacris" Bridges, Olivia Thirlby, Cary Elwes.