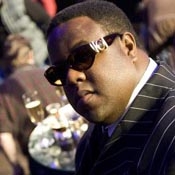 Despite rapper Notorious B.I.G.'s 24-year life that still managed to be full of music, drugs, sex, fame, fortune, and gangsta action, it's remarkable how bland and old-style Hollywood biopic-y that life has turned out to be in Notorious.
Starting at the end and flashing back in linear style, the film tells the story of Christopher Wallace (Jamal Woolard), the former Catholic honors student–turned–teenage father and drug dealer who hits it big when his chance rap recording finds its way into the hands of young music industry entrepreneur Sean "Puffy" Combs (Derek Luke). Combs sees Wallace as key to the success of his new label, Bad Boy Records. In no time, Biggie is hitting the top of the charts with his X-rated rhymes and stories of street life in the Brooklyn of his youth. Now he has a whole new set of pressures -- including newfound fame, a couple of kids, a marriage to fellow artist Faith Evans (Antonique Smith), and an ongoing complicated sexual relationship with MAFIA rapper Lil' Kim (Naturi Naughton), not to mention a growing East Coast–West Coast rivalry pitting him against Tupac Shakur (Anthony Mackie) that ends tragically for both.
Casting a real rapper with similar Brooklyn roots was a smart move, as Woolard is perhaps the only compelling reason for seeing this film. He not only handles the musical challenge well; he's completely convincing and even touching in scenes where Biggie shows his human side. Woolard is a prime example of the inherent acting talent many rappers seem to have, and he dominates the film with authority.
Luke is always good, and as Combs he captures the zeal and drive of a guy out to conquer show business and the music industry at all costs. Just how accurate the portrait may be is questionable; Combs, along with Biggie's mother and managers, also produced the picture, clearly skewing it from their point of view.
Whatever the truth of the tale, most of the actors in smaller roles make strong impressions, including Mackie, who is a dead ringer for Tupac. C. Malik Whitfield and Kevin Phillips also are solid as Biggie's managers, desperately trying to keep his focus on the prize and away from his own self-destructive tendencies.
Although top-billed, Angela Bassett isn't around all that much in the role of Biggie's mother, but she delivers her customary all-pro performance as a woman unable to mask her disappointment over the way her son leads his life. As the two key romantic interests, Smith is attractive and sexy as Faith Evans, a fellow artist he marries; and Naughton is fiery and seductive as Lil' Kim, although the real Kim has protested the accuracy of her portrayal. Julia Pace Mitchell poignantly plays his first girlfriend, who gives birth to his daughter. In an effective piece of stunt casting, Biggie's real-life son Christopher Jordan Wallace convincingly plays his dad as a kid.
The disappointments of this surprisingly flat film version of the life of one of the 1990s most influential rap artists lie not in its stars but in its failure to help us understand just what it was about this big shooting star that made him touch so many lives in so little time.
Genre: Drama
Written by: Reggie Rock Bythewood, Cheo Hodari Coker
Directed by: George Tillman Jr.
Starring: Jamal Woolard, Angela Bassett, Derek Luke, Kevin Phillips, Naturi Naughton, Antonique Smith, Anthony Mackie, Christopher Jordan Wallace, C. Malik Whitfield, Julia Pace Mitchell