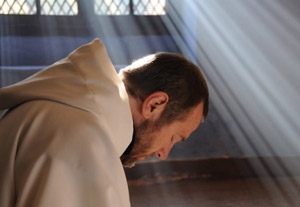 This Grand Prize winner (essentially second place) at the 2010 Cannes Film Festival is an affecting and touching film loosely based on actual events in the life of the Cistercian monks of Tibhirine in Algeria from 1993 through their tragic (and still mysterious) kidnapping ordeal that took place in 1996. A film as austere as the lives of the men it portrays, "Of Gods and Men" centers on eight French Christian monks who live peacefully with their indigenous Muslim brothers in a mountainous North African monastery.
Outside of this serene environment is the real life of violence and Islamic fundamentalism, which rears its head when a crew of foreign workers is murdered. Even though the monks are offered protection and have the option to leave, they are conflicted and must deal with the life-or-death stakes these decisions to stay or go create. The government asks them to return to France, but their whole way of life and their immersion in this particular Muslim community for which they provide a free outpatient clinic tugs at their hearts—and ours. Much of the film is taken up with the day-to-day life of this extraordinary group of disparate men whose commitment to peace underlies the possibility, naïve as it is, that there can be a common ground between two quite different religious factions.
Director Xavier Beauvois' moving film is blessed with a group of marvelously layered performances that highlight a unique group of individuals, each distinguished by memorable personality traits. Chief among them is Lambert Wilson's Brother Christian, the head of the order who hopes to find a way to embrace Islam and the Muslim ways in the spirit of his own undying Christianity. This terrific actor creates a character that reigns as the film's conscience in some ways. He is perhaps not hopelessly optimistic, but he clearly believes there can be a brotherhood of man, even if evidence all around him in this tiny village is beginning to suggest otherwise. Also standing out is the marvelous veteran actor Michael Lonsdale as Brother Luc, an aging physician whose love of wine and classical music is at the center of the film's penultimate scene: a quiet and contemplative "last supper." Also wonderful is Jacques Herlin as Amedee, the eldest of the monks whose almost frozen expression, worn and wise, says it all.
We don't know or get a whole lot of information on the life stories of these men, although we are allowed to pick up clues here and there. Events and character details in Beauvois' carefully crafted story that masterfully blends fiction and fact are in the faces of these dedicated human beings, thanks to the actors who play them.
Genre: Drama
Written by: Etienne Comar, Xavier Beauvois
Directed by: Xavier Beauvois
Starring: Lambert Wilson , Michael Lonsdale , Olivier Rabourdin, Jacques Herlin, Philippe Laudenbach.