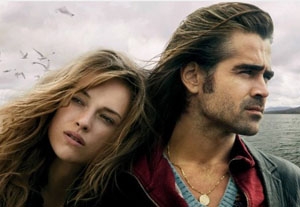 Neil Jordan's "Ondine" attempts to be haunting and lyrical. That sensibility is telegraphed throughout, starting with the film's evocative setting: an isolated fishing town on the Irish coast. There's lots of sea imagery, mythological references, and miraculous turnarounds in fortune. It has all the earmarks of a contemporary fairy tale. Regrettably, the film is just dull, and the sluggish pace and monotonous rhythms don't help.
The film tells the story of troubled, down-on-his-luck fisherman Syracuse (Colin Farrell), who catches a beautiful young woman (Alicja Bachleda) in his net. She appears to be dead but then unaccountably returns to life. She has no idea who she is or how she got there, and she and Syracuse fall in love. The woman from the sea adopts the name Ondine, a folkloric water nymph who boasts magical powers, and Syracuse's life undergoes a transformation. His fishing business thrives, and his seriously disabled daughter (Alison Barry) forges a bond with Ondine. It's an idyllic life until dark figures from Ondine's past intrude. But love prevails, and the film ends on an affirmative note.
Farrell, who is usually excellent, seems slightly stiff and uncomfortable. The rest of the cast, however, manage to circumvent the uninteresting material and give well-rounded performances. Most impressive is Barry as the feisty and precocious daughter. Barry is a natural talent and a true screen presence. Her performance is all the more remarkable because it marks her film debut. Bachleda is nicely cast as a sensual woman and lost soul who almost believes her own mythology. Dervla Kirwan is convincing as Syracuse's embittered, drunken ex-girlfriend. And Stephen Rea brings subtlety and nuance to the role of a priest. It is a very small part, but he gives his cleric a touch of understated humor and sophistication.
Jordan's films often indulge in heavy-going philosophical musings, and his aesthetic may not be for all tastes, but he has had commercial and critical successes, from Anne Rice's "Interview With the Vampire" to Graham Greene's "The End of the Affair." This film doesn't rank among them.
Genre: Drama
Written and directed by: Neil Jordan
Starring: Colin Farrell, Alicja Bachleda, Alison Barry, Dervla Kirwan, Stephen Rea