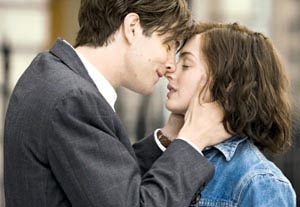 "One Day," the latest film from Danish director Lone Scherfig ("An Education"), is a wistful romantic drama, a featherweight confection that won't overtax most intellects or play havoc with many tear ducts. Yet two attractive stars and a gorgeous look (thanks mostly to Benoît Delhomme's cinematography) add up to an intermittently refreshing warm-weather tonic.
The framing device in screenwriter David Nicholls' adaptation of his best-selling novel involves 20 years' worth of consecutive July 15ths in a relationship, beginning in 1988 in Edinburgh, Scotland. As the story shifts from one July 15 to the next, throughout Britain and France, we catch up with the two protagonists while they maintain an odd but unbreakable bond. Their involvement seems destined to never quite cross over from longtime friends to lovers or spouses. Not only does this couple avoid the euphemistic "benefits" they don't even maintain the degree of contact often found among platonic close chums.
Emma (Anne Hathaway, sporting a moderately effective British accent) and Dexter (Jim Sturgess) are college classmates who almost consummate their physical attraction following graduation-night festivities but ultimately forestall the seemingly inevitable. Emma is middle-class and scholarly, with a touch of nerd in her soul, and gadabout Dexter—reveling in the perks that come with an affluent family—is the kind of scamp women aren't supposed to like but find irresistible. When Dexter's rascally charms take a negative turn into boorish behavior and chemical addictions, the durable bond between the two seems threatened. But even after Emma enters an unfulfilling marriage, while a shotgun wedding and fatherhood threaten to tame Dexter, the lingering flame between our protagonists remains far from extinguished, up to a startling conclusion.
Solid chemistry between Hathaway and Sturgess partially atones for the gimmicky narrative. Hathaway strikes a good balance between stiff-upper-lip emotional reserve and sly wit, making Dexter's attraction for her believable. She brings a calming influence and a sense of fun to their volatile interactions. In a role that could come across as unsympathetic, Sturgess finds the vulnerability behind Dexter's bad-boy shenanigans, allowing the character's impish charisma to shine through. There's strong support from Patricia Clarkson as Dexter's gravely ill mother, attempting to exert a positive influence on him up to the end; Ken Stott as Dexter's less patient father; Rafe Spall as the doltish wannabe comic Emma marries; and Romola Garai as Dexter's philandering short-term spouse.
Genre: Drama
Written by David Nicholls, based on his novel
Directed by Lone Scherfig
Starring Anne Hathaway, Jim Sturgess, Patricia Clarkson, Ken Stott, Rafe Spall, Romola Garai