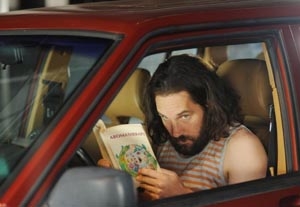 Paul Rudd is the main reason to see this affable wisp of a comedy—then again, that's a very good reason to see it. The laid-back, cool comedian delivers every line with such unbridled ease and natural reading that audiences can't help loving this guy. He plays Ned, not the brightest bulb on the planet but a sweet guy who finds himself in a bit of trouble when he sells pot to a police officer. Ned gets sent to jail and separated from his beloved dog, Willie Nelson, who goes back to the farm with Ned's girlfriend (Kathryn Hahn). When Ned gets out, he has to face the fact that his girl has dumped him for another farmer, Billy (T.J. Miller), and that he has no choice but to live at the various homes of his three sisters—winningly played by Emily Mortimer, Zooey Deschanel, and Elizabeth Banks. Mortimer plays a wife and mother of two, trying to keep her marriage to a documentary filmmaker (Steve Coogan) alive; Deschanel plays a stand-up comic; and Banks plays Miranda, an up-and-coming magazine reporter.
A Sundance acquisition for The Weinstein Company, the film was reportedly written to fit the talents of Rudd by director Jesse Peretz and writers Evgenia Peretz and David Schisgall. There's not a whole lot of storytelling going on here; it's generally Rudd interacting with the various characters. The most tension comes in Ned's attempts to get his dog back from the ex-girlfriend. The film does not even present a side of the actor we haven't seen before. But there's something enormously likable and comfortable about the whole breezy enterprise, perhaps because the cast members are so well-chosen and in tune with one another. Deschanel is a charmer, as always, and Mortimer does nicely in grounding the film in a little reality. Banks nearly steals it in her scenes with Rudd, and the two exhibit great chemistry. The two have acted together in many films, and the shorthand shows: They are extremely comfortable with each other's acting rhythms. The same goes for all the others, many of whom have also worked with Rudd before. Hahn and Miller are the weak links, and this particular thread in the script is the only part that seems a bit forced. Rudd's scenes with Willie Nelson are priceless, and the actor manages to belie the old adage to "never work with kids or animals." He works quite well with this one, thank you.
"Our Idiot Brother" works quite well, too. You may not remember much of it after it's over, but it's a nice way to spend a couple of hours at the end of summer.
Genre: Comedy
Written by: Evgenia Peretz and David Schisgall
Directed by: Jesse Peretz
Starring: Paul Rudd, Elizabeth Banks, Emily Mortimer, Zooey Deschanel, Steve Coogan, Kathryn Hahn, T.J. Miller