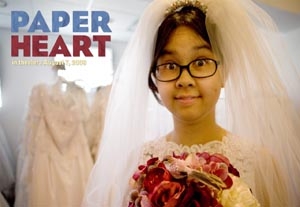 Part documentary, part mockumentary, "Paper Heart" is a quirky movie that's got an even quirkier leading lady: Charlyne Yi, an offbeat, disheveled-looking, and adorable—or annoying, depending on the eye of the beholder—comedian you might recognize from small roles in "Knocked Up" and "30 Rock." The premise of "Paper Heart" is that Yi does not believe in love, or at least she doesn't believe that she can fall in love. Or as Seth Rogen tells Yi in an interview for the film: "Your love glass is half full." Yi's mission: To interview an assortment of subjects—friends, couples, scientists, bikers, Las Vegas wedding chapel ministers, children—to probe deeper into what love means to others.
Meanwhile, Yi starts up a romantic relationship, to her and the audience's surprise, with comedic actor Michael Cera ("Arrested Development," "Juno"). Problem is that the film's director, Nick Jasenovec (played onscreen by actor Jake Johnson), insists that the entire relationship be documented on film, lest he miss a key moment, such as one of them professing their love for the other. Not surprisingly, the camera crew captures several awkward moments (i.e. early dating, first kiss) and eventually puts a strain on the budding relationship.
While the interviews with random folks are entertaining, these segments depicting couples sharing their stories of how they fell in love remind me too much of the staged interviews in "When Harry Met Sally." It also feels haphazard as to how or why these real-life people were chosen, as the film depicts Yi and her crew bouncing back and forth between their home base in Los Angeles and the next destination, be it Las Vegas; Flagstaff, Ariz.; Albuquerque, N.M.; Amarillo, Texas; Oklahoma City, Okla.; Little Rock, Ark.; Nashville or Memphis, Tenn.; or Atlanta. Really, there's no rhyme or reason to their route or subject choices.
Still, Yi is a thoroughly likable, albeit odd, leading lady to follow through her travails and adventures. Unglamorous, self-deprecating, alternately earnest and joking, the actor keeps our attention and continually makes us question if what we are watching onscreen is real or scripted. In the end, the blend of documentary and narrative works. Most endearing are the handmade (by Yi and her father) puppet sequences used to visually depict the documentary subjects' tales.
Genre: Comedy/Documentary. Written by: Charlyne Yi and Nick Jasenovec. Directed by: Nick Jasenovec. Starring: Charlyne Yi, Michael Cera, Jake Johnson.