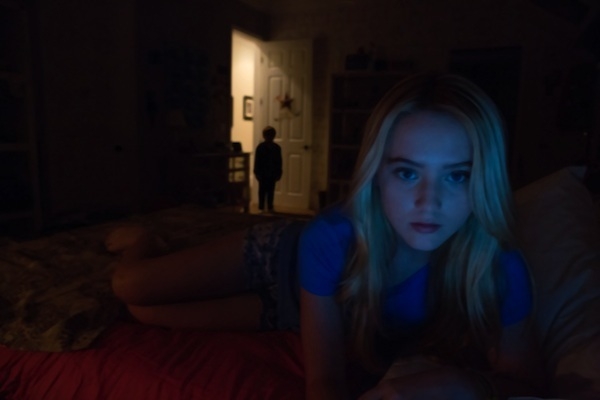 Though it can still wring you out in spots, "Paranormal Activity 4" is more familiar than it is frightening, recycling the franchise's found-footage gimmick one more time for a story about a creepy little boy (Brady Allen) who moves in with his next-door neighbors, unleashing some freaky terrors in the process. This series has always relied on low-key scares executed with icy, ruthless precision—the slam of a door, the sudden appearance of an apparition—but while Kathryn Newton shows a little spunk as a teen girl suspicious of this unholy kid, "Paranormal Activity 4" feels haunted by its inability to chill your blood the way previous installments did.
What if Tyler Perry decided to become an action hero? If such a notion strikes you as odd, "Alex Cross" won't do much to change your mind. Playing the titular detective made famous by author James Patterson, the writer-director-mogul steps away from the Madea fat suit and tries his hand at being a leading man, but despite his best efforts this is a pretty mediocre thriller. In the film Cross tangles with a dangerous serial killer (Matthew Fox) while director Rob Cohen tries but fails to inject suspense into their cat-and-mouse struggle. Cohen isn't helped by his star, who never satisfyingly conveys his character's imposing intellect or his gradual descent into darkness as he becomes consumed with capturing his prey. The sluggish "Alex Cross" only springs to life when Giancarlo Esposito shows up as a magnetic underworld figure. Warning: All he gets is one scene.
A crowd pleaser at this year's Sundance Film Festival, "The Sessions" features two strong performances that help anchor a feel-good drama that can sometimes be a bit slight. Based on the life of Berkeley writer Mark O'Brien, the film stars John Hawkes as O'Brien, who was paralyzed from the neck down and needed an iron lung to live. Wanting to lose his virginity, he hires Cheryl (Helen Hunt), a sex surrogate who meets with him over a series of sessions to help rid him of his sexual hang-ups. "The Sessions" may sound like a cynical amalgam of different Oscar-bait elements—a disabled character, an inspirational true story—but Hawkes and Hunt's sweet, sad rapport makes you care about these two lonely souls. As for William H. Macy, who plays O'Brien's unconventional priest, the usually fine actor gets a little too cutesy for my taste, allowing the film to trip into glibness.
"Nobody Walks" isn't the first film to suggest that rich, successful L.A. couples aren't as happy as they appear, but it's certainly among the most frustrating. Featuring some strong performances from Rosemarie DeWitt, Olivia Thirlby, John Krasinski, Justin Kirk, and India Ennenga, the movie charts the arrival of New York artist Martine (Thirlby) into the home of family friends Peter (Krasinski) and Julie (DeWitt) and their children. With a script co-written by "Girls" auteur Lena Dunham, "Nobody Walks" examines the challenges of making an emotional connection with another person—everyone in this movie is either having an affair, upset that somebody else is having an affair, or wondering why he or she can't find that special someone—but these potentially intriguing insights are dwarfed by the fact that we're inundated by painfully shallow characters.
The weekend's most adventurous offering, "Holy Motors," defies easy categorization, but let's give it a shot. A man named Monsieur Oscar (Denis Lavant) wakes up for work and gets into the back of a limo, where he's handed a series of "appointments" for the day. Each of these requires him to play a different role—in one, he's a homeless beggar; in another, he's a motion-capture performer—but for what purpose? And on whose instruction? French filmmaker Léos Carax isn't concerned with concrete explanations. Instead, his beautifully surreal drama aspires to something far more profound, turning Oscar's bizarre day and night into a metaphor for the many guises and seasons every life must go through. As our shape-shifting hero, Lavant brings an emotional coherence to Oscar's many personae, hinting at the soulfulness beneath the costume changes. Also superb are Kylie Minogue, Eva Mendes, and Edith Scob as the women drawn into Oscar's orbit.