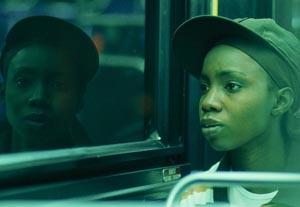 "Pariah" is a sensitive and compelling coming-of-age story that explores the experiences of gay African-American teen Alike (Adepero Oduye) attempting to find direction in a world that isn't especially welcoming to homosexuals. Set in a lower-middle-class black enclave in Brooklyn, "Pariah" also gently examines how Alike's sexuality redefines relationships within her troubled family. Writer-director Dee Rees, making an impressive feature debut, vividly brings to life these characters—their values, morals, and conflicts.
Oduye's Alike is a fully rounded figure whose low-key, matter-of-fact manner belies emotional turbulence, whether she's encountering her disapproving religious mother (Kim Wayans), flirting with a self-serving lover (Aasha Davis), or enjoying herself with a committed and supportive dad (Charles Parnell) who is two-timing Mom. Most striking is how Alike subtly matures over time.
All the portrayals are layered. Davis' as the bisexual girlfriend is paradoxically exploitive and innocent. Parnell's Arthur is at once an abused husband, a guilt-ridden philanderer, and a father whose love for his daughter trumps his discomfort with her lesbianism. Tackling Alike's pal, Pernell Walker is boisterous and self-accepting while hinting at a lonely soul who has experienced the pain of being shunned by loved ones.
But Wayans, who is perhaps best known as a comic actor and sister of Damon and Keenen Ivory Wayans, is a revelation as a tormented mother, whose aesthetics and Christian scruples are violated by her daughter's sexuality. Early on, it's clear she has suspicions about Alike's sexual orientation as she tries to tempt the unresponsive girl with a shopping spree; later her distress is fueled by her husband's skirt chasing coupled with his denial that anything is amiss with their daughter. She is a shrewish and unappealing woman, yet Wayans makes the viewer almost feel sorry for her.
Although "Pariah" ends on a note of triumph for Alike, it's an unsettling film, perhaps made all the stronger and more memorable by its understated tone, leisurely pacing, and unencumbered storytelling.
Genre: Drama
Written by Dee Rees
Directed by Dee Rees
Starring Adepero Oduye, Kim Wayans, Charles Parnell, Pernell Walker, Aasha Davis