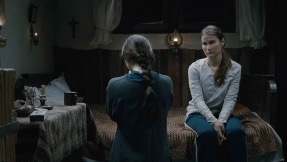 There is nothing easy about "Beyond the Hills," director Cristian Mungiu's follow-up to his 2007 "4 Months, 3 Weeks, 2 Days." Based on a true story, Mungiu's film follows the arrival of pot-stirrer Alina (Cristina Flutur) at a Romanian monastery where her childhood friend Voichita (Cosmina Stratan) has made a life for herself. Alina wants Voichita to leave with her; Voichita wants very much to stay. Somehow, Alina's instability and obsession result in the priest and nuns thinking she's possessed and chaining her to a plank for an exorcism.
What's remarkable about the film, which travels at a leisurely pace even through the wildest plot turns, is how the sudden conviction that Alina is possessed feels so unremarkable. Reading that nuns chain a young woman to a plank is a far cry from the ways in which Mungiu makes that choice seem not only natural but the only possible solution.
The intellectual exercise that finds us analyzing how the film has so successfully constricted our worldview—most of it is set at the barren monastery, so that any journeys into modernity feel both overwhelming and surreal—is the most consistent aspect of "Beyond the Hills." Unlike in "4 Months," we never feel a deep connection to the main characters. No real passion is on display here, despite Alina's over-the-top reactions to Voichita's refusal to abandon her new life for an uncertain one in Germany. And Voichita is a cipher, a stubborn woman who hides behind a bovine equanimity that deflects every appeal and attack thrown at her.
Both performances are rooted in those two objectives: to leave and to stay. As the film progresses, Alina and Voichita dig their heels in deeper, even as they pay lip service to the other's desire. The result is a movie that doesn't reel us in emotionally. The battle between the two women seems pitifully small compared with its outcome, which has grandiosity and urgency lacking in the rest of the film. We are left with a quiet, sometimes riveting account of looking for one's true north and the impossibility of ever being certain that it is true enough, one that is told with beautiful camera work and abrupt explosions of violence. But we're never once moved by either woman or the untenable situations in which they find themselves.
Critic's Score: B-
Directed by Cristian Mungiu
Cast by Catalin Dordea
Starring Cristina Flutur, Cosmina Stratan