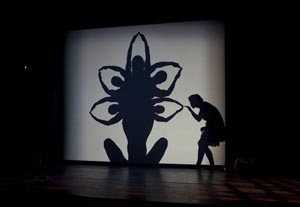 It used to be that once you saw Pilobolus perform, there was no need to see the company again anytime soon. Its gymnastic, shape-driven works, though undeniably intriguing, were all of a very similar aesthetic. But no longer. In recent years, the company—still acrobatically astonishing—has made notable forays into dance-theatre and physical comedy. The stimulating Program 3 of the company's four-week, three-program season at the Joyce Theater features a fantastical mime-influenced quartet, a biting work of social satire, a hard-driving piece of fierce physicality, a showy solo, and a tender duet.
Choreographed by its four Pilobolus performers and guest Israeli choreographers Inbal Pinto and Avshalom Pollak, "2b," a New York premiere, opens the evening with poignant displays of human frustration set among colorful surrealistic images. A Chaplinesque character tries to hide within a garden of black balloons from a giant lizard and a tormenting red-gloved woman who emerges from a tiny doorframe, as does a bothersome man in orange-striped pants. Constantly at odds, the four combat through stylized clowning.
 Jun Kuribayashi gives a flawless performance of "Pseudopodia," a 1973 solo best described as variations on a backward somersault. Then comes a marked shift: Juribayashi's pure-movement showpiece, choreographed by co–artistic director Jonathan Wolken, is followed by the disturbing 2008 quintet "Razor:Mirror," a dark look at abuse victims. In this discerning dramatic work, freaks offer a dance of demented fidgeting and twitching, as if performing in a carnival sideshow for our voyeuristic entertainment. The lines between fun and danger soon begin to blur, and we see how closely related the pastoral and the grotesque can be. Nestled within all the creepiness is a delightful parody of Paul Taylor choreography.
The gorgeous 2001 duet "Symbiosis" is the most recognizably Pilobolus-style work on the program. Two bodies, afraid to be apart, move as one, making fluidly devised contortions that suggest the organic connectedness of mated souls.
Pulling out all the stops, the evening concludes with the electrifying "Day Two," a powerful work of raw human heat, spectacularly danced by Matt Del Rosario, Andrew Herro, Jeffrey Huang, Jenny Mendez, Annika Sheaff, Christopher Whitney, and Kuribayashi.
Presented by and at the Joyce Theater
,
175 Eighth Ave
.,
NYC
.
July 13
–
Aug. 8. Mon
.–
Wed
.,
7:30 p.m
.;
Thu. and Fri
.,
8 p.m
.;
Sat
.,
2 and 8 p.m
.
(
212
)
242-0800 or www.telecharge.com
.