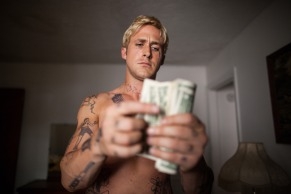 No one actually says "My father didn't love me enough" in "The Place Beyond the Pines," but they don't have too; director Derek Cianfrance has strangled every storyline in this overstuffed, underwhelming drama with enough father-son turmoil to fill a years' worth of Little League games.
Ryan Gosling has this infant son he didn't know about, see? And the boy's mother, Eva Mendes, doesn't want anything to do with this stunt motorcycle rider, so Gosling decides to rob banks to provide for his boy. Because he loves him! But new cop Bradley Cooper ends up shooting Gosling dead, and then feels guilt for leaving that little boy fatherless. (That Mendes has a new husband who appears to be a great father never really becomes part of the conversation.) Cooper's father is a big New York politico disappointed that his law degree-holding son wants to be a common copper, until Cooper blows open the corruption in the department and blazes his way to Attorney General. For various narrative reasons that have nothing to do with logic, Cooper sends his now-teenage son to high school in Syracuse, where he quickly meets and befriends Gosling's son. Violence ensues!
By the time "The Place Beyond the Pines" hits the two-hour mark, you'll be wondering how much snazzy visuals can compensate for limp storytelling. Gosling disappears into the accoutrement of his character, the endless cigarettes, motorcycle, and sleeveless tees, and never moves beyond tortured bad boy. Cooper barely registers; Mendes give sthe kind of performance called brave because she lets herself be seen without makeup and with artfully applied strands of gray in her hair. And the two actors playing Gosling and Cooper's sons—Dane DeHaan and Emory Cohen, respectively—positively wallow in excess. DeHaan, so good in Sundance's "Kill Your Darlings," will have to wait until that film's release to be seen as Hollywood's next big thing, while Cohen's puffy, marble-mouthed turn is as infuriating as it is misguided. (Since when does the attorney general's son talk like a "Jersey Shore" refugee?). Turns out, the place beyond the pines is where good actors go to do sloppy work.
Critic's Score: D
Directed by Derek Cianfrance
Casting by Cindy Tolan
Starring Ryan Gosling, Bradley Cooper, Eva Mendes