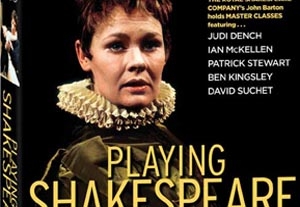 What a thrill to watch actors of Britain's Royal Shakespeare Company—accomplished performers all—as they come back to study the text of their noble kinsman William Shakespeare at the knee of the illustrious director John Barton. Filmed more than 25 years ago, the nine 50-minute episodes occasionally look a little staged and artificial. But that's a small fault when considering that we can watch Barton coaching the likes of Judi Dench, Patrick Stewart, Ian McKellen, and Ben Kingsley—each in the early years of their careers—in the art and science of the text.
What hints and help are there in Shakespeare text, and particularly in his verse, for the actors to seize upon and to use? According to Barton, Shakespeare presents a few absolute rules but many possibilities. With what he calls the two chief ingredients— Shakespeare's text and a group of modern actors—he tries to help the actors marry the traditions of heightened language to naturalistic (at one point better denominated
realistic
) acting. There are stresses and line lengths to consider, elisions and antitheses, irony and passion. The series starts and ends with Hamlet's advice to the players—in the series' final rendition of it, a tender but crystal-clear delivery by the even-then estimable Dame Peggy Ashcroft (
The Jewel in the Crown
).
In his episode on rehearsing, we can watch Barton coach Dench as Viola in
Twelfth Night
—opposite Richard Pasco (
A Dance to the Music of Time
) as Duke Orsino, Michael Williams (
A Fine Romance
) as Curio, and Norman Rodway (
Ruth Rendell Mysteries
) as Feste. In the episode on character, David Suchet (
Poirot
) and Stewart, given identical notes by Barton, offer their divergent takes on Shylock.
A charming teacher ("Thank you, I enjoyed that" or "That moved me" after his actors speak the speeches), Barton seems to have the immense respect of his students. He may stop them at every word, but he listens and advises when they present their own ideas for him to examine. As an excellent learning experience, they generously give "bad" line readings to illustrate his points.
The actors, too, are so open, so appreciative—thanking Barton for a suggestion—and, in some cases, so unable to immediately apply the direction. Watching that is almost as good a learning tool as the suggestions themselves.  Highly informative, slightly addicting, this series is a must-have for every actor's toolbox.