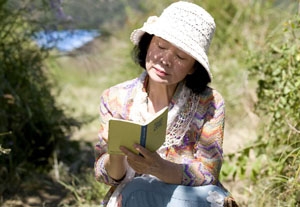 A hit when it was in official competition in the 2010 Cannes Film Festival, "Poetry" is worth the time invested by audiences largely because of a towering, understated, and heartbreakingly real performance by Korean actor Yun Jeong-hie, who plays a grandmother dealing with a horrible deed by her grandson while trying she tries to maintain the dignity and order of her own life.
As Mija (Yun) is just beginning to exhibit early signs of Alzheimer's disease, she is charged with bringing up her grandson Wook (Lee Da-wit) and takes a poetry class where she shines and feels a new zest for life. At the same time she must deal with the fact that her beloved but difficult grandson could be involved in a heinous act that led to the suicide of a classmate: a girl who was raped by a gang including Wook. The other parents want to sweep this under the rug. Still, Mija remains steadfastly optimistic and enthusiastic toward life and her simple pursuits. Her relationship with Wook is undeniably strained, but she uses the poetry class to rise above the other problems in her life.
"Poetry" is a deceptively simple film, filled with truths about how to live our lives with dignity despite ugliness and unpleasant things around us. At times this overlong and very slow film is frustrating in its basic narrative. But it is all brought together with such soulful quietude and supreme confidence by Yun that we quickly fall under its spell. Especially effective are the scenes in the classroom in which she studies her poetry lessons and creates her own memorable work. This is not a performance of highs and/or lows, but her tone is so sweetly consistent that we can't look away. It is not only one of the major performances by a female actor all of last year, but also may be one of the most memorable in a decade. Yun is a major star in her native South Korea, but this kind of role comes along very rarely for actors of her age in the Asian world—or anywhere, for that matter.
The film won the best screenplay prize in Cannes this year, but remarkably it didn't win an acting award for Yun, who dominates her every scene with an authority that is rarely seen. The supporting cast is highly accomplished but can't match the power of the film's star. Still, Lee is perfectly cast as Wook, and the two create a highly believable relationship onscreen.
Director-screenwriter Lee Chang-dong knows exactly where to place his camera for maximum effect in this quiet but affecting drama and gives his actors every opportunity to create a startling but unforced realism that makes "Poetry" a must-see for fans of world cinema.

Genre: Drama

Directed and written by: Lee Chang-dong

Starring: Yun Jeong-hie, Lee Da-wit, Ahn Nae-sang, Kim Hira, Kim Yong-taek.