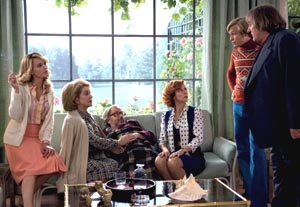 Set in a French suburb circa 1977, "Potiche" is a frothy tale about bosses and workers, husbands and wives, ex-lovers, and feminism. It's very much of its time and place and utterly charming. Co-stars Catherine Deneuve and Gérard Depardieu have enormous appeal individually. But as a pair of old flames, suddenly thrown together, the chemistry between them is nothing short of winning. There's poignancy too.
Deneuve plays Suzanne Pujol, a dutiful and passive trophy wife (a "potiche") who finds she has unexpected strength along with high-level negotiating skills when she takes over her bossy husband's (Fabrice Luchini) umbrella factory after the workers go on strike and take him hostage. Things grow really messy when he is released, restored, and boasts every intention of resuming his former position as man-in-charge. The problem is that Suzanne is determined to keep her newfound power. Matters get even sticker when Depardieu, as a former union leader and Suzanne's ex-boyfriend, surfaces with his own none-too-subtle agenda. Among other challenges, he still loves her.
Depardieu gives the most layered performance; despite the overall lightness of tone, you feel his ache and sense of loss. He knows time is irretrievable, especially for those who are no longer young. Deneuve's Suzanne is a little more hard-nosed. She has feelings for him as well as her comically tyrannical husband (wonderfully played by Luchini), but mostly she's enjoying her own burgeoning sense of self and sees no reason to give it up—or, for that matter, the two men in her life. Karin Viard is also amusing as the husband's put-upon mistress and Suzanne's pal and supporter. Judith Godreche and Jérémie Renier do nice turns too as, respectively, a rich man's over-indulged daughter and sexually ambiguous son.
François Ozon's adaptation of Pierre Barillet and Jean-Pierre Grédy's play is fast-moving, easygoing, and mercifully devoid of special pleading. The same is true for his direction. Delicately merging politics, farce, and emotion, it's all to his credit.
Genre: Comedy
Written and directed by: François Ozon
Adapted from the stage play by Pierre Barillet and Jean-Pierre Grédy
Starring: Catherine Deneuve, Gérard Depardieu, Fabrice Luchini, Karin Viard, Judith Godreche, Jérémie Renier.