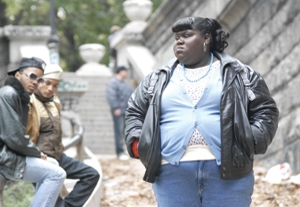 Having traveled a triumphant path at film festivals since its award-winning debut at Sundance in January, this vitally honest and emotionally compelling look at an abused African-American woman trying to lift herself out of despair and into a hopeful new life is poised to become the "Slumdog Millionaire" of 2009. It's an improbable success story that hits you in the gut and strikes a universal chord of recognition for anyone—black, white, or purple.
Clareece "Precious" Jones (Gabourey Sidibe) is a 16-year-old girl, pregnant for the second time (by her now-missing father), who must contend with her angry and physically abusive mother (Mo'Nique), who tries to keep her down and on welfare. Precious is a good student in a bad school, as she carries the sad secret that she can neither read nor write. Threatened with being kicked out, the determined young woman transfers to an "alternative" school, Each One Teach One, where under the guidance of understanding teacher Ms. Rain (Paula Patton), Precious starts a remarkable journey out of darkness and into the light of a new beginning.
Although the film is at times unrelievedly bleak, the power and grit of its cast lift it emotionally into a place few movies achieve these days. Like "Slumdog," it offers hope where there doesn't appear to be any, and that's largely due to a remarkable newcomer making her movie debut. Sidibe captures the essence of a girl who has been left for the living dead, an abused and wounded teenager whose own sense of self-worth is gradually restored by faith and a singular opportunity to improve her lot in life. Overweight, adrift, and under the influence of her evil and unforgiving mother, Sidibe invests Precious with humanity, heart, and hope against all odds. As the monster parent, comedian and talk-show host Mo'Nique is a revelation, giving a fierce and fearless portrayal of a woman beyond redemption while making this walking nightmare three-dimensional. Among the fine supporting cast, Patton is warm and stern as the kind teacher who takes Precious under her wing and encourages her to fly. Mariah Carey completely erases the memory of "Glitter" and is quite effective as a no-nonsense social worker, while Lenny Kravitz and Sherri Shepherd are fine in their brief roles.
Director Lee Daniels clearly understands this milieu and has gotten maximum impact from his well-chosen cast, whose members, particularly in the case of Mo'Nique and Carey, are taking career risks in showing sides of themselves we haven't been exposed to before.
The film was originally called "Push" after the novel it's based on, but the producers had to change the name when another similarly titled (and terrible) film hit the marketplace. Whatever they call it, "Precious" is undeniably one of the year's best and most rewarding motion-picture experiences.
Genre: Drama.
Screenplay by: Geoffrey Fletcher.
Directed by: Lee Daniels.
Starring: Gabourey Sidibe, Mo'Nique, Mariah Carey, Paula Patton, Lenny Kravitz, Sherri Shepherd.