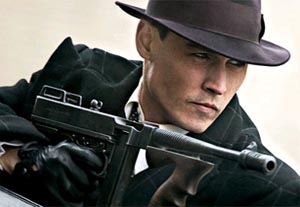 It's not often we get to see Johnny Depp, the
movie star
. After all, he is probably the only major superstar working today who regularly hides behind such flamboyant screen personas as Sweeney Todd, Jack Sparrow, Willy Wonka, Edward Scissorhands, and the upcoming Mad Hatter in
Alice in Wonderland
, to name just a few. With his role as John Dillinger in
Public Enemies
, some will probably be wondering if Depp has suddenly lost his SAG character actor card. But in taking on the notorious Dillinger, the actor is just adding another layer to his impressive screen portfolio. Rest assured, this isn't like Warren Beatty taking on the much-scruffier-and-uglier-in-real-life Clyde Barrow in 1967's
Bonnie and Clyde
or Brad Pitt playing Jesse James, where the physical truth has been Hollywoodized and a glamour puss has been hired to portray a schlub. Depp has a remarkable resemblance in some scenes to the real Dillinger, whose handsome looks and cocky demeanor perfectly match the star who plays him here.
Director Michael Mann's sharp-looking movie is a worthy vehicle for Depp, even if it doesn't break any new ground in the well-worn gangster genre. Depp plays Dillinger almost as if the bank robber were a matinee idol, with his well-publicized crimes and prison breaks capturing the public's imagination like never before. Dillinger and his gang—Pretty Boy Floyd (Channing Tatum), Alvin Karpis (an almost unrecognizable Giovanni Ribisi), Baby Face Nelson (Stephen Graham), Harry Pierpont (David Wenham), and Homer van Meter (Stephen Dorff)—tear up the town in style. Throw in a love interest in the form of a half-French hatcheck girl named Billie Frechette (Marion Cotillard), and you've got the ingredients for sizzle. Just as fascinating as the "bad guys" are the supposed good guys, primarily J. Edgar Hoover (Billy Crudup), who sees the headline-grabbing crime wave as his potential ticket to firmly establish his fledgling FBI, and Melvin Purvis (Christian Bale), the main agent he sends in to track down Dillinger and his gang.
Screenwriters Mann, Ronan Bennett, and Ann Biderman retain the facts, based on Bryan Burrough's meticulously documented 2004 book,
Public Enemies
:
America's Greatest Crime Wave and the Birth of the FBI, 1933-34
, but keep the proceedings from becoming too reverential. Ultimately what the writers achieve is a fascinating cat-and-mouse game between the hunted and the hunters. The film is particularly successful in establishing a real sense of drama and, on the part of Hoover and Dillinger, pure hubris.
The acting is first-rate across the board and all are well-cast. At times it's hard to tell one gang member from another, though Graham's Baby Face Nelson is nicely etched.
This is really a showcase for Depp and Bale, who brings dimension to the strait-laced Purvis. Crudup makes a fine Hoover; among the other lawmen, Stephen Lang does a good job toward the end as Charles Winstead. Cotillard skillfully evades the curse of foreign stars working in English by nailing Frechette and perhaps stealing the film from the guys.
At two hours and 20 minutes,
Public Enemies
could have used trimming, but Mann is to be applauded for providing a great actors' showcase in a summer of special effects.
Genre: Drama
Written by: Michael Mann, Ronan Bennett, Ann Biderman
Directed by: Michael Mann
Starring: Johnny Depp, Marion Cotillard, Christian Bale, Billy Crudup, Jason Clarke, Rory Cochrane, Stephen Dorff, Stephen Lang, Channing Tatum, Giovanni Ribisi, David Wenham, Matt Craven, Stephen Graham