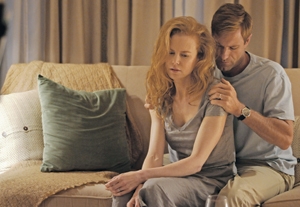 Film adaptations of plays have a spotty success record, due to the vastly different sensibilities of the two mediums—the poetic fragility of stage imagery versus the literalness and immediacy captured by the film lens. Screenwriter David Lindsay-Abaire's celluloid version of his play "Rabbit Hole," brilliantly directed by John Cameron Mitchell, offers a surprisingly fresh take on the writer's compelling drama, punctuated with wry humor. It loses none of the play's power and resonance, remaining an eloquently understated portrait of grief and emotional resilience experienced by an affluent married couple coping with a nearly unspeakable tragedy—the accidental death of their 4-year-old son.
Faithful to his narrative and characters, but thankfully not slavishly so, Lindsay-Abaire has opened up the action to myriad locations and added characters, expanding his artistic canvas without compromising the intimacy and stark truthfulness that drove the play. The script smartly captures the humor that we use as an escape mechanism when coping with despair, while illuminating the wide range of emotions we travel through while learning to accept life's calamities.
Nicole Kidman delivers one of her most memorable performances as the sardonic and ostensibly thick-skinned Becca Corbett, mother of the deceased child. The tightly wound Becca is working toward cherishing life anew—sometimes awkwardly, yet always determinedly. The wit and authenticity of her multilayered portrayal is best exemplified in the scene in which Becca and her husband, Howie (Aaron Eckhart), reluctantly attend a grief support group session. When a grieving mother remarks that God needed another angel so he took her daughter, the bemused Becca firmly challenges what she clearly considers a ridiculous notion. Her retort is that if he's God, he doesn't need to take someone's child to make an angel; he can make a new one. Though Kidman's portrayal is tastefully restrained, her depiction of the character is far from stoic. The anguish and challenges of moving past such a tragedy are seamlessly conveyed in Kidman's subtle yet devastatingly moving line readings, facial expressions, and body language.
Kidman and Eckhardt share a splendid chemistry. Though Howie appears to be a bit closer to emotional renewal than his wife, his pain is also palpable in Eckhardt's finely nuanced characterization. His effort to dull the suffering by dabbling in an extramarital affair with a woman (Sandra Oh) he meets at the support group rings true. Dianne Wiest is warm and winsome as Becca's compassionate mother, and Miles Teller is deeply affecting as the young man involved in the accident, who befriends Becca, aiding in her healing. Tammy Blanchard offers sublime comic relief as Becca's reckless sister, Izzy, an unmarried party girl who reveals she's pregnant. The journey that the free-spirited Izzy takes tellingly contrasts with the road to rebirth that her more responsible sister faces.
Mitchell, noted for his work in the iconoclastic and dicey films "Hedwig and the Angry Inch" and "Shortbus," makes a triumphant creative segue to the tender sensibilities of this hard-hitting slice-of-life film. "Rabbit Hole" is a career high point for all of its gifted collaborators.

Genre: Drama

Directed by: John Cameron Mitchell

Written by: David Lindsay-Abaire, based on his play

Starring: Nicole Kidman, Aaron Eckhart, Dianne Wiest, Tammy Blanchard, Miles Teller, Giancarlo Esposito, Jon Tenney, Sandra Oh.