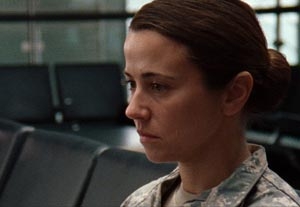 "Return" undoubtedly has a lot going for it, not least its unusual subject and treatment. Marking writer-director Liza Johnson's feature debut, the film recounts the troubling experiences of a returning female war vet. Kelli (Linda Cardellini) has completed a tour of duty and looks forward to the quotidian as wife of plumber Mike (Michael Shannon) and mother of two small daughters. Despite her intentions, she has grown emotionally disenfranchised and cannot adjust to civilian life. Her marriage is shaky, she is unable to care for her children, and she unceremoniously quits a desperately needed job. The film never spells out what happened to her or why she's changed so irrevocably. "Return" is devoid of hideous war flashbacks and exposition suggesting that Kelli is suffering from some form of posttraumatic stress. She neither rages nor wails and has no cathartic moment, making the movie notable for its stark depiction of life after deployment without villains or politics.
"Return" vividly evokes an impoverished rust belt community awash in the terminally displaced. Cardellini is totally convincing as an inarticulate lost soul desperately trying to maintain control and failing dismally. Shannon splendidly brings to life a beleaguered husband and deeply committed father at the end of his rope. In a wonderful scene that is poignant and hilarious, he joyously celebrates a neighbor's plumbing disaster, imagining the huge sums of money he will make repairing it. James Murtaugh gives a nuanced performance as Kelli's former employer, who, though betrayed by Kelli, gives her his pet pigeons when he is forced to close his factory. Playing a recovering alcoholic with a talent for hairdressing, Talia Balsam doesn't make a false move as a well-meaning downtrodden blue-collar woman. But ultimately the film belongs to John Slattery, in a multilayered performance as an aging, drugged-out, horribly lonely Vietnam vet who has long since given up on himself.
Credit must also be given to cinematographer Anne Etheridge and production designer Inbal Weinberg for creating a moribund community—with its rundown homes and boarded-up businesses—that serves as the perfect backdrop for the bleak story. The film is visually compelling, which shouldn't come as a surprise, as Johnson is an artist whose work has been exhibited internationally.
But "Return" has its limitations. Paradoxically, its sparseness—striking though it may be—is also its liability. This slice of life brilliantly captures the surface, but in the end that's not wholly satisfying.
Genre: Drama
Director: Liza Johnson
Writer: Liza Johnson
Cast: Linda Cardellini, Michael Shannon, John Slattery, Talia Balsam, James Murtaugh